Wincanton's focused community website, providing news and information including a full calendar
News » Sport » Racecourse/Equestrian
Horsington pupils treated to masterclass by legendary racehorse trainer at Wincanton Racecourse
Wednesday 9 February 2022, 15:40
By Nick Seddon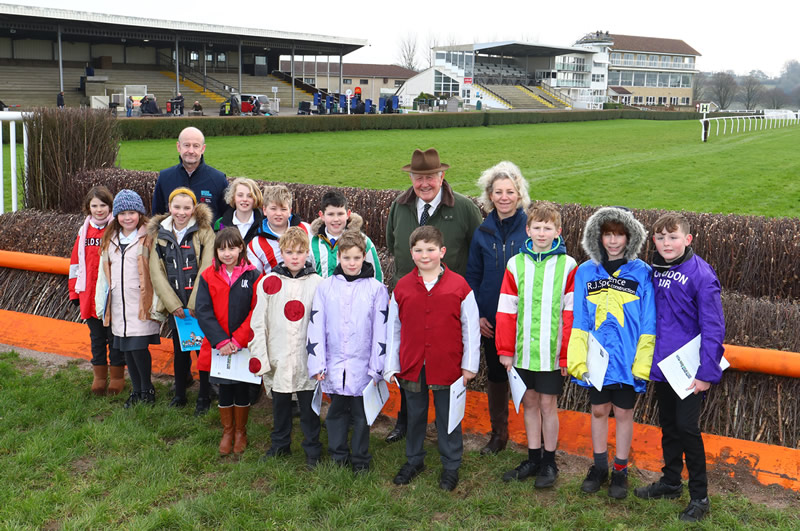 Local schoolchildren were given a day to remember at Wincanton Racecourse on Wednesday 26th January, when they were treated to a masterclass by the legendary racehorse trainer David Elsworth.
Pupils from years five and six at Horsington Church School spent the day at the Racecourse with Racing to School, a charity which aims to inspire the next generation to take an interest in horseracing.
As well as being given the full VIP experience, a talk about life in front of the camera by Racing TV presenter Jess Stafford and a glimpse behind the scenes on a busy race day, the undoubted highlight was walking the course with racing icon Elsworth (pictured above), who is best known for training the great grey Desert Orchid in the 1980s.
Elsworth became a household name through the success of 'Dessie', the horse known to millions for winning the Cheltenham Gold Cup in 1989 and the King George VI Chase on four occasions.
After retiring in December following a 43-year career as a trainer, Elsworth arranged the trip to Wincanton as a simple gesture to one of his local tracks.
"I was cleaning out my previous training place and in my office I had this nice picture of old Cavvies Clown in action at the Racecourse. I wasn't sure what I was going to do with it and wondered if Wincanton would like it and it all went from there really.

"They were all very kind and gracious and I ended up showing the kids round for a while, which was great. The Racecourse were very kind and it all became a bigger deal than me trying to find a new home for the picture!"

- David Elsworth, legendary racehorse trainer
Now 82, Elsworth is a popular figure at Wincanton and the Racecourse's General Manager, Jack Parkinson, was delighted with the gesture from the former champion trainer, who used to operate in nearby Whitsbury before moving to Newmarket in 2006.
"It was fantastic to welcome David Elsworth back to Wincanton on Wednesday and we were thrilled with his gift to the Racecourse.

"This track has played a huge part in the history of jump racing and it's always lovely to have memories of racing stars which take pride of place for the public to see them.

"When we found out David wanted to gift us the picture, we invited him along as a guest of the Racecourse for the day. It just so happened that the children were also here with Racing to School.

"David was incredibly generous with his time and more than happy to give them a money-can't-buy experience of a day at the races. Hopefully they had fun and we'll see them here enjoying days out with their families for years to come."

- Jack Parkinson, Wincanton Racecourse General Manager
Elsworth is local to Wincanton having been born in Salisbury. Recounting many happy memories as a trainer at the Racecourse, he added:
"It was so nice to go back to Wincanton. I first went there back in 1956, so it's been a long association with the course and I have many happy memories. I can waffle on and nobody knows if I'm telling the truth because they weren't around then!

"Cavvies Clown was a great horse in his time and was second in the Cheltenham Gold Cup back in 1988. He was bred locally by his owner Mrs Ollivant and we had plenty of good days together. He won the principal race at the track back then called the Jim Ford Challenge Cup on two occasions, which was a big trial for the Cheltenham Gold Cup.

"I was best known for Desert Orchid and while everyone knows him for winning the Cheltenham Gold Cup he was a fantastic hurdler and he won the Kingwell Hurdle at Wincanton, which was a big trial for Cheltenham back then. I was blessed with good horses and I was very lucky at the time."

- David Elsworth, legendary racehorse trainer
Racing takes place at Wincanton on Saturday 19th February with tickets available from thejockeyclub.co.uk/wincanton. Children go free.