Wincanton's focused community website, providing news and information including a full calendar
Headlines » Sport » Racecourse/Equestrian
Horse riders appeal to inconsiderate drivers
Friday 17 May 2019, 17:01
By Nikki Forbes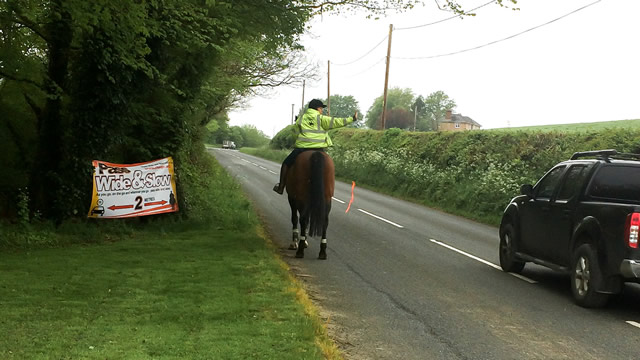 Some drivers may have wondered why this banner has appeared beside the road into Bayford.
I am a local horse rider who has to use the Bayford to Leigh Common road to reach my nearest bridlepath. While most drivers around Wincanton are brilliant, sadly there is always one or two impatient and reckless drivers with bad attitudes that can startle, unsettle and panic the horses.
Here is message to all drivers in Wincanton and surrounding villages.
When you see a horse and rider, slow down, be prepared to stop, and only pass when safe to do so. Pass as wide as possible with a 2 metre gap and at no more than 15mph.

Please do not rev your engine or sound your horn.
Riders, cyclists and walkers are vulnerable road users with as much right to be on the road as vehicles. Most do not want to be there but the lack of bridleways makes being on the road a necessity.
Horses are flight animals and 600kg of horse coming through a windscreen has the potential to kill not just the horse and rider, but the driver and passengers as well.
I do my best to be seen by wearing hi-vis, and only ride two abreast when I have a young, less experienced horse that I am trying to educate and de-sensitise to the traffic.
Sometimes I receive gestures telling me to ride on the verge. There are two reasons I don't. Traffic tends to go by even closer and faster, and it is often full of litter including broken bottles and rusty tins.
I have now started to wear a body camera to record any poor driving and Avon and Somerset Police, who have a reporting tab on their website, are now finally taking action on any footage they receive that shows dangerous driving or driving without due care and attention.
I will always try to acknowledge your patience and careful driving with a wave and hopefully a smile.
Nikki Forbes
Riding Gate
Wincanton