Wincanton's focused community website, providing news and information including a full calendar
News » Nature » C.A.T.C.H.
EA Releases Fish into the Cale Due to C.A.T.C.H. VIDEO
Friday 7 November 2014, 01:34
By Dave Smith
[NO VIDEO? This video might not appear on mobile devices. If you can't see it, check out the pictures at the bottom, and then try a YouTube app to find this, and other C.A.T.C.H. videos.]
The Environment Agency (EA) has seen fit to release a significant stock of bred fish into the River Cale in Wincanton, as a direct result of, and credit to the work C.A.T.C.H. has been doing to clean up the river and improve its status as a bio-diverse habitat.
C.A.T.C.H. has been operating voluntarily in Wincanton for almost exactly two years now (anniversary celebrations pending). Back at the beginning, late 2012, the team was accompanied by Jim Allan of the EA Fisheries department, on a walk of the Wincanton stretch of the Cale to assess its general health and identify ways it could be improved.
Since then several other environmental professionals have been involved, including Mike Blackmore of the Wild Trout Trust who conducted a similar analysis of the Cale with the team as a direct follow-on from Jim's work, and with a view to helping C.A.T.C.H. better understand how the river could be developed to increase bio-diversity and provide improved sustenance for future fish populations.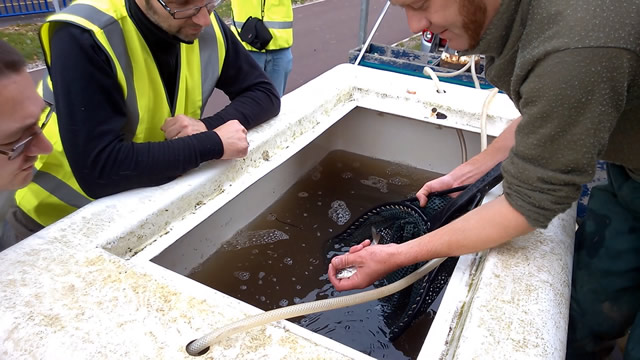 C.A.T.C.H. remains keen to get children involved in the hope that if they learn to care for the river and its inhabitants they'll more likely grow up with a greater respect for the environment, and be less likely to contribute to the waste and detritus that ends up in our river. 'Action Days' and classroom projects have got the kids involved on many occasions.
As a direct result of all this effort C.A.T.C.H. has attracted the attention of the EA, who breed fish for release into our rivers and have identified Wincanton, and the River Cale as a suitable spot for the release of some of their fish into the wild; a contribution to the local food-chain, perceived to be imbalanced but on the mend.
On Thursday the 23rd of October 2014 Jim delivered a large tank of 2500 fish (1500 roach, 500 chub and 500 dace) to Wincanton to be released at several points along our stretch of the Cale. One of the spots chosen for the release was that affectionately known by the team as "Skaters' Curves" – the section that meanders next to the skate park, opposite Lidl.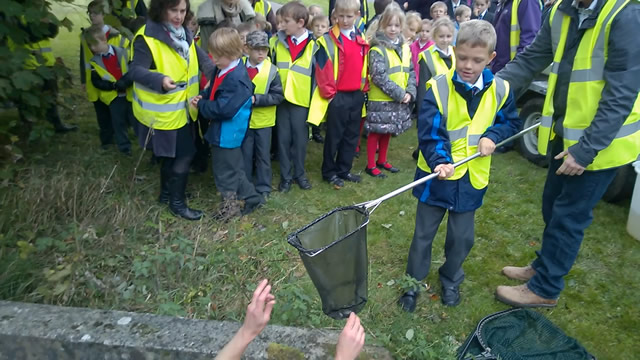 Fortunately it's a great spot along a public footpath from which bystanders could observe the activity, so C.A.T.C.H. took the opportunity to invite pupils from all three of Wincanton's schools (King Arthur's, Our Lady of Mount Carmel, Wincanton Primary) to join them on the day and witness the historic occasion. All three schools chose to get involved and somewhere in the region of 50 children turned up and appeared to thoroughly enjoy the experience, as you can see and hear in the video.
This is something of a vote of confidence in C.A.T.C.H. from the organisation that oversees ecological defence and development in this country, and possibly the single greatest result to date of everything the team has been working towards.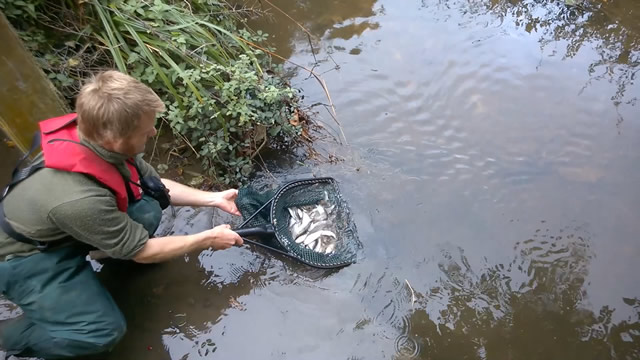 The work of C.A.T.C.H. continues, and the team maintain an open invitation to anyone who would like to get involved. All the team members are volunteers, and everyone's involvement is a bonus, no matter how small.
More articles, pictures and videos will be coming soon. The team have been very active over the last few months, but pictures and specifically video takes considerable time and effort to prepare, so watch this space for coverage of other activities, past and future.