Wincanton's focused community website, providing news and information including a full calendar
Headlines » Sport » Wincanton Sports Ground
Disability Football Sessions are a Huge Success
Friday 10 October 2014, 10:57
By Jade Hansford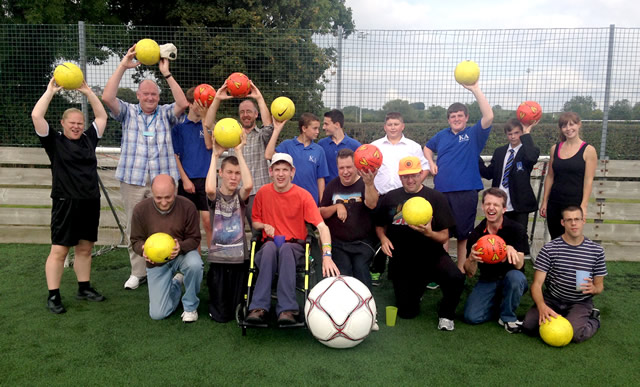 Back in March, Wincanton Sports Ground was fortunate enough to receive funding from the Somerset FA to set up football sessions for adults with disabilities. Now the winter months are approaching, unfortunately the sessions have finished for the year.
Here at the Sports Ground we are sad that our disability football sessions are over for the winter, but what a fantastic seven months it has been! All participants enjoyed themselves, learnt new skills and are especially keen to start the sessions again next spring. A huge thanks has to go to Rachael at the Somerset FA who helped fund the sessions, and also the coach Leah, who led the sessions.
We have also had King Arthurs' students helping at sessions recently. On the first session the students got stuck straight in, and all partnered up with participants, helping them with their passing skills. In other sessions the students helped set up penalty shootouts, demonstrated drills and skills, helped set up and put away equipment, helped with tactics in a game and encouraged the particpants.
Having the students' help really benefited the participants, and regular attendee Neil says, "Having the boys here is really fun. They help you play well and encourage you."
Another regular, Max, said, "the sessions were fun and energetic and the boys are really helpful." Overall the boys did a fantastic job, and did themselves and the school proud! We look forward to hopefully having them back next spring when the sessions restart.
The sessions aim to start again next Spring, so if you would like more information on the football sessions, or any activity we offer here at the Sports Ground, please contact Jade on .