Wincanton's focused community website, providing news and information including a full calendar
Headlines » Neighbourhood » Roadworks
Church Street Works Finish Early
Thursday 5 March 2015, 18:30
By Fanny Charles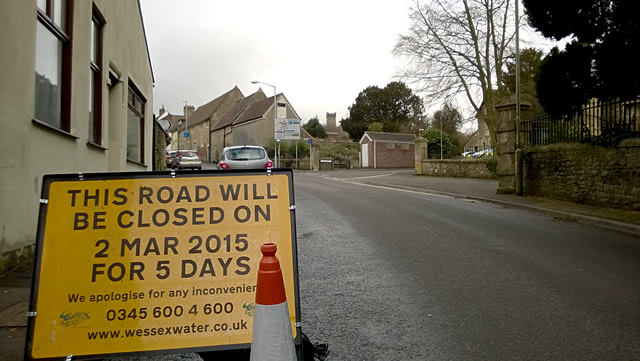 Residents of Church Street had three days of relative peace while engineers carried out works for the water board and the street was closed – but it's good news for the whole town that they finished the work early.
Initially scheduled for the whole of the first week of March, the roadworks closed the top part of Church Street and an awkward diversion was put in place that involved the lower part of Church Street becoming two-way and diverted traffic being sent up West Hill or round by Shatterwell Shute.
Inevitably some motorists tried to push their way to the top of Church Street, only to be forced to make a tight three-point turn and rather humiliatingly drive back down, and at least one huge HGV had to turn around in Churchfields and be guided back down Church Street and into the diversion. But most people respected the diversion and road-closed signs for the three days of the closure.
"It was very peaceful without the traffic," said a Church Street resident, "but it was inconvenient for so many people and we are delighted the water board finished the work early."
High Street trader Steve Stapleton of Wincanton Wholefoods was impressed that the engineers finished the job in three days rather than five.
"We ought to thank them," he said. "They got enough stick for closing the road and they really worked hard to get it open earlier than originally announced."