Wincanton's focused community website, providing news and information including a full calendar
Headlines » Neighbourhood » Roadworks
Church Street Closure & Road Works – URGENT NOTICE!
Saturday 28 February 2015, 14:15
By John Smith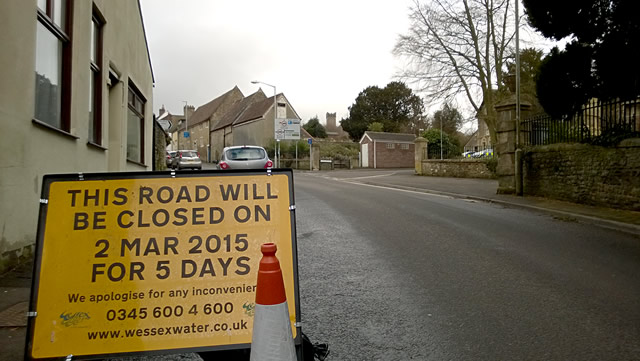 [UPDATE:] Thankfully the works on Church Street this week were finished considerably earlier than expected, coming to an end sometime during Wednesday 4th March. The works, and the long and awkward diversion could have dragged on until as late as the 7th. Local residents and traders have offered thanks to the workmen for working so quickly.
[ORIGINAL:] Wessex Water begin urgent work to repair collapsed drainage pipes in Church Street on Monday 2nd March. Church Street will be closed to traffic for up to 5 days, from just above the entrance to Churchfields car park, allowing full vehicle access to/from the car park.
The section of Church Street below the car park will remain open, and two-way traffic will be enabled, controlled by traffic lights at the junction of Church Street, Silver Street and Station Road.
A diversion route will be clearly signed from the start of works on Monday morning, and will be as follows:
Traffic approaching Wincanton from the A303 will be diverted along the A303 to the Gillingham junction, and via Bayford to Wincanton Town Centre.
Traffic approaching from Castle Cary or Henstridge directions will be taken via Anchor Hill onto the A303 and the Gillingham junction. First impressions will be that this diversion takes motorists on a long and windy journey, but the authorities have to design diversions that can cope with all types and sizes of vehicle.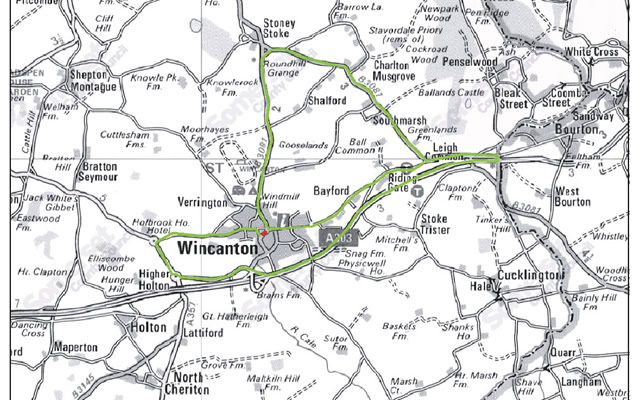 Motorists with local knowledge will no doubt have their own ideas of how best to navigate their way around town. There are dangers that town lanes, specifically Shadwell Lane, and Balsam Fields may be used as short-cuts, and could become busy rat-runs overnight, causing disturbance to local residents. Motorists are asked to exercise caution and courtesy if using those lanes.
Although Wessex Water has stated that the closure is for five days it is hoped that the works will be completed earlier, as 5th March heralds the next Wincanton Racecourse afternoon meeting. Experience tells us that on race days traffic levels explode as jockeys, livestock and punters arrive, and again at the end of the meeting as they all make their way home again.
If the works are still active on race day motorists are asked to drive cautiously and to avoid causing undue disturbance to local residents along the routes.
Concerns were raised by the local business community, and the Town Council that Wessex Water and County took so long to release the diversion details, that it's doubtful that all concerned will know about the works till it's too late. Popular consensus is that details should have been published for the community to see at least a full week before the start of work.