Wincanton's focused community website, providing news and information including a full calendar
News » Sport » Racecourse/Equestrian
CAT Bus -> Racecourse timetable 2019/20
Thursday 16 January 2020, 17:26
By Dave Smith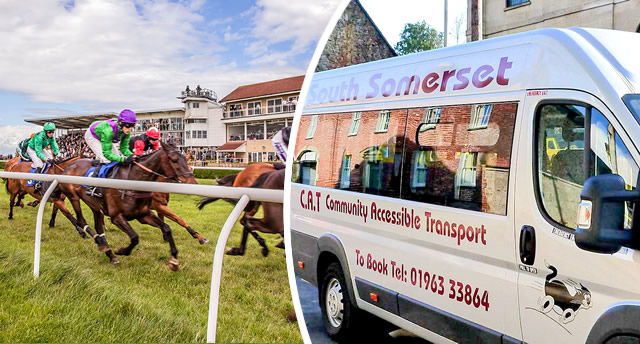 Wincanton Racecourse has secured the services of the CAT Bus as a complementary shuttle specifically for town residents for the remainder of this season.
The CAT Bus will make two morning runs, collecting from Wincanton Memorial Hall and then Morrisons each time, and then make two return trips at the end of the day. Bus stop signs will be provided.
The opening time and first and last race times vary a little each race day, and on two of the dates there will be no service, so please refer to the timetable below.
Pick up at
Memorial Hall
Pick up at
Morrisons
Return
Gates open
First race
Last race
January
Sat 4th
11:00
11:30
11:15
11:45
15:00
16:00
10:30
12:30
15:50
Thu 16th
12:00
12:30
12:15
12:45
15:30
16:30
11:30
13:30
16:10
Thu 30th
11:30
12:00
11:45
12:15
15:45
16:45
11:00
13:10
16:30
February
Sat 15th
12:00
12:30
12:15
12:45
16:30
17:30
11:30
13:40
17:10
Wed 26th
No service
No service
No service
12:30
14:20
17:20
March
Thu 5th
12:30
13:00
12:45
13:15
16:30
17:45
12:00
13:50
17:20
Mon 23rd
12:45
13:15
13:00
13:30
16:45
17:45
12:00
14:15
17:25
April
Wed 1st
No service
No service
No service
12:00
14:10
17:15
Sat 19th
12:00
12:30
12:15
12:45
16:30
17:30
11:30
13:45
17:15
May
Thu 7th
Evening meeting, times TBC