Wincanton's focused community website for news, views and information including a full calendar
Headlines » Sport » Racecourse/Equestrian
Busy Summer Holiday at Pevlings Farm Riding Stables
Friday 3 October 2014, 14:56
By Alison Tytheridge
Pevlings Farm Riding & Livery Stables in Horsington has lots to offer the horse rider.
Tiny tots can start in lead rein lessons in the school or go for walks up the lane or around our fields. Beginner riders can join in groups or ride individually to gain confidence and improve riding skills. Once off the leading rein riders move on to learn to canter and jump, Children can learn the basics of pony care on 'Fun Days' and then join the Helpers Club to spend as much time as possible with their horsey friends.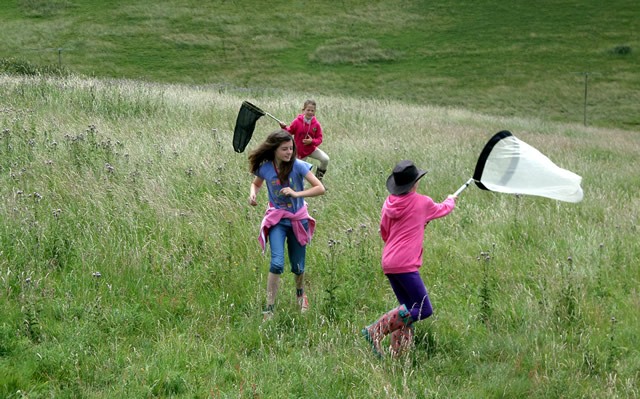 As we are a Pony Club Centre, children can join The Pony Cub to earn certificates and badges in a range of equine and non-equine subjects such as The Butterflies and Moths Achievement Badge which saw us off to Lankham Bottom Reserve for a spot of butterfly catching!
The Centre is registered for The Young Equestrian Leader Award Scheme run by BEF and Sport England to recognise volunteers in the equestrian industry. Our Autumn special offer is a free riding lesson for anyone (age 13-25) who achieves Bronze Level YELA with us before Christmas.
Some children were lucky enough to be able to take a pony to a local show.
Adults are catered for with individual lessons or the 'Take Back the Reins' riding courses for new and lapsed riders. Our newest course is 'Carry on Cantering' which is a follow on from 'Take Back the Reins' or for those who just want to do a little bit more. This course is aimed at riders who are secure at cantering and have already had a go at pole work and jumping. The emphasis is on improving basic riding skills so not for experienced jumpers! Hacking is also available through quiet country lanes and bridle paths.
For further details on any of our lessons or courses for children or adults, please telephone me, Alison, on 01963 370990.