Wincanton's focused community website, providing news and information including a full calendar
News » Sport » Wincanton Badminton Club
Badminton Club Has Fun With Fancy Dress Knockout Night
Saturday 18 December 2010, 14:58
By Mandy Cochrane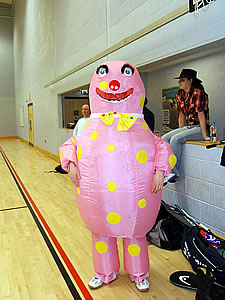 Wincanton Badminton Club has never been one to put performance above enjoyment, so it was no surprise that our members readily donned fancy dress costumes for last Wednesday's evening of badminton, in what has become a bit of an annual tradition just before Christmas.
Having arrived slightly early, it's true to say I felt a little self-conscious as I stood alone, in full clown costume, waiting for someone else to arrive from the club. The footballers and their families, just finishing a game, thought it was a great joke. I was never so relieved as when I spotted the Sugar Plum Fairy come through the door to join me!
Everyone had made a fantastic effort with their costumes, but then old hands at this know that the Club's organiser, Caroline Coombes, always brings a spare costume or two for those that "accidentally" forget, so there's really no escape!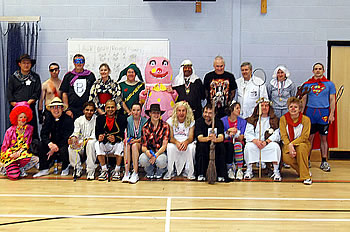 We drew names to pair up partners for the evening and began a hilarious knockout tournament that was all the funnier for seeing how everyone played in their unaccustomed costumes. Mr. Blobby attempted a few practice shots, missed every single one and almost fell over; capes of various colours and descriptions became entangled with racquets; wigs were dislodged and seams stretched to precarious lengths as men discovered the limitations of skirts and dresses.
All in all a great time was had by all and in the final match Mr Blobby and Andy Pandy were narrowly beaten by a Sheik and a sexy elf.
Caroline has run the club for the last twenty years or so and is always keen to hear from anyone who is interested in playing, at whatever level. The club meets every Wednesday evening between 7.30pm and 10.00pm and enjoys other social events throughout the year as well. You can call Caroline on 01963 32423.