Wincanton's focused community website, providing news and information including a full calendar
Headlines » Sport » Racecourse/Equestrian
150 years of National Hunt racing at Wincanton Racecourse
Thursday 3 August 2017, 14:24
By Fanny Charles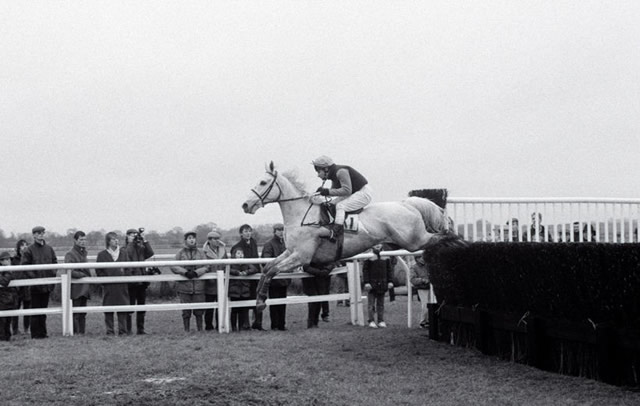 One of Wincanton's favourite winners, and a regular visitor after his retirement, Desert Orchid is pictured with jockey Colin Brown on his way to winning the Jim Ford Challenge Cup steeplechase at Wincanton in 1987.
Wincanton Racecourse celebrates its 150th birthday in August 2017 – and it's not only a significant date for the town, it is an important anniversary for National Hunt racing generally.
With a history as rich as it is long, Wincanton's ties with the sport of National Hunt racing began in 1867 as the hunting community in Somerset staged what is believed to be the first ever National Hunt Steeplechase.
In subsequent years, the National Hunt committee formed and introduced recognised rules into the sport, creating a series of races at Wincanton in a format that is now known as a fixture list.
During the First World War the course, then situated at Hatherleigh Farm, was closed and did not reopen until 1920. With its reopening came financial hardship. Lord Stalbridge saved the course from liquidation. He formed a new board of directors with himself as chairman, and when the lease on Hatherleigh Farm expired, he decided to buy Kingwell Farm – still the home of racing at Wincanton. With funding from Lord Stalbridge, the new course was built and the first meeting at the new venue took place on the Easter Monday of 1927.
The army requisitioned the land as a military base during the Second World War and with the health of Lord Stalbridge steadily declining, the course was put up for sale. A ten-strong group of local sportsmen refused to watch the course disappear and joined forces to purchase Kingwell Farm and carry out some much needed improvements to the facilities. The course opened its doors once again in 1945 after the site was vacated by military personnel.
Lord Stalbridge died in 1945 and is honoured each year on Boxing Day when the course runs the Lord Stalbridge Memorial Cup Handicap Chase.
In the 1960s the course was bought by the Racecourse Holdings Trust, now The Jockey Club, which still owns Wincanton. The anniversary will be marked by the publication of a history of racing at Wincanton.