Wincanton's focused community website, providing news and information including a full calendar
News » Nature
Come for a Tree Walk and Talk in Wincanton
Thursday 3 October 2019, 18:44
By Jonathan Astill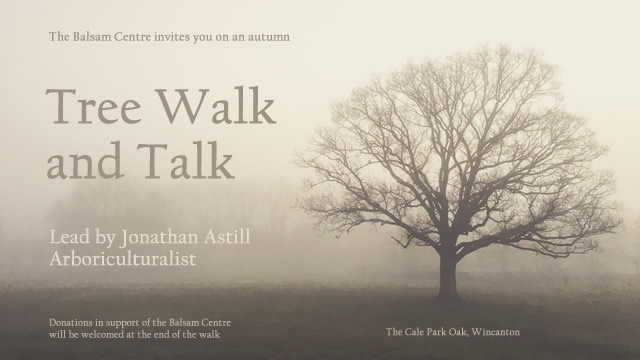 Come for an autumn tree walk and talk in the centre of Wincanton at 10:30am on Saturday 5th October, and learn all about the trees where you live.
The walk
We shall be meeting at the Church of St. Peter and St. Paul for a prompt start at 10:30am. The walk and talk is expected to last about 1½ hours and is focused on trees in the Churchyard and Cale Park, so we won't be covering a long distance. Please be sure to bring sensible clothes and footwear as we won't stop for rain. We'll finish up at the Cale Park Kitchen. Donations in support of the Balsam Centre will be welcomed at the end of the walk.
I'll do my best to give an insight into the following areas on the walk, but if anyone has more questions at the end, I'd be happy to hang around for a chat over coffee.
Getting to know what's what in your local area: Have you been to Cale Park a thousand times but don't know a Hornbeam from a Beech or an Elder from an Alder? Whether you're a newbie or a keen gardener, you'll get some top tips on tree identification and get to know some of the big (and not so big) trees that keep Wincanton green and beautiful.
Right tree, right place: This mantra says it all! All trees have preferences; soil, space, hardiness, moisture, exposure. If this mantra is applied, the tree has the best chances of a long and healthy life.
Benefits of trees in towns: People have preferences too, so what do you want or need from your trees? Shade, stature, screening, autumn colour, blossom, winter bark, wildlife, fruit, shelter, noise and pollution filters, confined spaces, historic appropriation?
Strategies for dispersal and survival: All true species want to thrive and produce offspring before they expire, but they all have different means of achieving this goal. Learn about some of the weird and wonderful strategies trees will go through to survive in a competitive world.
Pests and diseases: They're not going away, but at what point does another organism become a problem? How do we prevent tree disease? Can we control them? Do we need to? Trees are skyscrapers, housing and feeding a multitude of other organisms. Trees are super servers of the 'wood-wide-web', providing great benefits to the wider environment.
Establishment, care and maintenance: Planting a tree and giving it a good start in life should be a doddle, right? The why do we so often get it wrong? At some points in a tree's life, the people living nearby will want to prune it. Be sure to have an objective and do it right. (Trees don't need pruning; they've managed perfectly well for millions of years before the chainsaw was invented.)
Trees and the law: Do our laws go far enough to protect trees and woodlands? How to be sure that we stay on the right side of the law.
The guide
My name is Jonathan Astill and I am an arboriculturalist who has worked with trees for 27 years. My wife and I have lived in Wincanton for 15 years and raised our family here, but I spent my younger days in the profession as a tree surgeon in Hampshire and Vienna, Austria.
For 12 years I worked for three local authorities in Dorset and Hampshire, from Tree Surveyor to Senior Arboricultural Officer. For five years I was a lecturer and practical instructor, teaching arboriculture at Merrist Wood College in Guildford and Sparsholt College in Winchester. In 2011 is set up my own independent arboricultural consultancy, Astill Treecare Ltd. astilltreecare.co.uk based in Maperton, just outside Wincanton.
Arboriculture is about bringing people and trees together. Unlike forestry, which is predominantly concerned with the commercial production of timber, arboriculture focuses on the management of trees in cities, towns, villages, private gardens, parks, public open space, schools, hospitals, hotels, etc.
In all cases, my work encompasses the social, historical, physical and conservation benefits of trees in the built environment. If you think that the treescape in urban and rural locations is something that just 'happens' without human intervention, think again. I believe that a well-managed treescape is an essential and fundamental component of a healthy and thriving community.
My line of work involves providing advice to land owners and land managers on all tree related matters. This includes tree surveys and inspections, management plans, hazard assessments, legal issues, planning design and development, new planting schemes and the sensitive management of our most treasured notable, veteran and ancient trees.
Whilst we all love trees (I have yet meet to meet anyone who say's they don't), they are under an exponential threat from a range of new pests from around the globe, development pressure, and poor practice. In most cases, trees are harmed without malice, but through lack of understanding. As such, I believe it my role to educate myself and others on the multiple benefits of trees in the built environment, and to providing realistic solutions to achieving harmony between trees and the people that live among them.
Supporting the Balsam Centre
Over the years our family has made good use of some of the great services provided by the Balsam Centre. Earlier this year, my wife and I were invited to volunteer our time as stewards at Glastonbury Festival on their behalf.
The time we gave up was nothing short of a pleasure as we got to know, and work with an amazing group of local people who all do their bit for the Balsam Centre, not to mention having a shed-load of fun at the best party on earth!
Like so many other local charities, the collective efforts at the Festival raised money for the Balsam Centre to continue providing such a wide range of activities and services for the benefit and wellbeing of the Wincanton and surrounding community.
When I suggested to staff at the Balsam Centre that I could provide a 'Tree Walk and Talk' event within the town, they jumped at the opportunity. I'm delighted to bring local people together to learn about their trees and welcome anyone with an interest to come along and make a contribution towards the running of this valuable center for community well-being.