Wincanton's focused community website, providing news and information including a full calendar
News » Councils » Town Council
Wincanton Town Council election candidates 2019
Thursday 18 April 2019, 10:41
By Dave Smith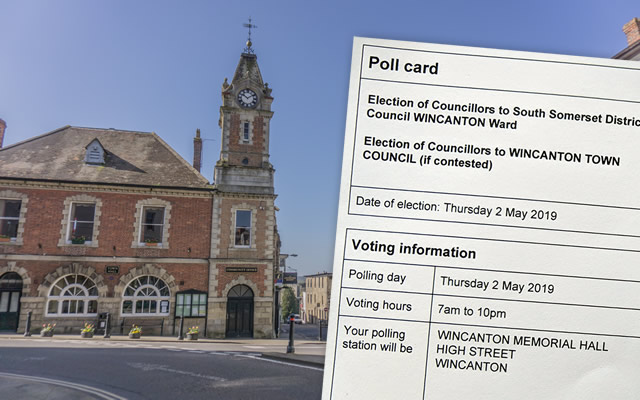 [UPDATE 14-06-2019:] Here are the results of the election.
---
It's time for local council elections again; four years since the last ones in 2015. If you're registered to vote you probably already have your poll card, which tells you that our local polling station will be in the usual spot: Wincanton Memorial Hall.
Polling day is Thursday 2nd May 2019. Drop in any time between 7am and 10pm to cast your votes for your preferred candidates for both South Somerset District Council (SSDC) and Wincanton Town Council (WTC).
Wincanton Town Council has 15 seats, and this year there have been 16 candidates nominated. This means we get an election, but as it's very unlikely anyone will get no votes at all, it's very likely only one candidate will fail to be elected! Perhaps in future there will be more people willing to stand for their community to make the elections more competitive, so those elected will be more representative of the whole community.
Due to recent resignations so close to the end of the current term, there have been only 14 councillors in Wincanton. Of those, 13 have decided to stand again. The notable exception is Howard Ellard, the current Chairman and Mayor, who has decided to step down after serving for a little longer than a full term. This means there are three fresh candidates who will be in need of votes!
Here's the full list of candidates nominated for the Wincanton Town Council election of 2019.
| | |
| --- | --- |
| MARK JEFFREY COOK | |
| JANET MARY EADINGTON | NEW! |
| ELAINE SOPHIE ANNA GALITZINE | co-opted 27/02/17 |
| ZAC GREENING | NEW! |
| KIRSTEN HEARNE | co-opted 25/01/16 |
| HELEN HERMANSTEIN SMITH | |
| SUE HINKS | |
| PAUL MCLARNON | co-opted 26/06/17 |
| DAWN LOUISE OLD | |
| WILFRED PHILIP RODGERS | |
| SUSAN ANN SHELBOURN-BARROW | co-opted 10/09/18 |
| DAVID ALEXANDER SMITH | |
| IAN PATRICK THOMAS | NEW! |
| RAY TUDGAY | |
| VICTORIA GALADRIEL VAGG | |
| LYNDA WALTERS | |