Wincanton's focused community website, providing news and information including a full calendar
News » Crime/Police » Police
Unfair Labelling of New Barns Says Wincanton PCSO
Friday 21 October 2011, 11:48
By PCSO Jenny Maynard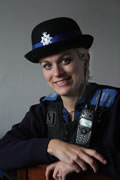 As members of the Neighbourhood Policing Team at Wincanton we decided to contact the residents at Atkins Hill and Crocker's Way on the New Barns development. We wanted to talk to them about the problems publicised recently in the local press (The Gazette and the Wincanton Window) and we asked them to complete a questionnaire.
We were pleased to be able to speak to 40 residents (10 properties were either empty or there was no answer) and we asked them to tell us how they felt about the area and to see if they had any concerns. The results of the questionnaire showed that the residents are mostly happy living where they are. Their biggest concern is how they have been labelled by other people and the press.
This area is a new development and there have been a few minor incidents, which is no more than happens in other parts of the town. Unfortunately, for some reason, these incidents are being well publicised. To give you a clearer view and to clear up any rumours I would like to give you the following information.
Some Facts about Crime in Wincanton
Between 1st April 2011 and the 21st September 2011 there were 590 emergency calls to the Police in the Wincanton area. 19 of these were to Crocker's Way and Atkins Hill. During the same period there were 194 crimes recorded in the whole area and 15 related to the new development.
In comparison last year, before the new development had been built, between 1st April 2010 and 21st September 2010 there were 560 calls and 182 crimes reported. This means there has been a 2% increase in calls and 4% increase in crimes in the whole Wincanton area reported between these dates. I believe this shows that there are no particular concerns with the new development. I hope publicising these figures will help put a stop to the rumours I have heard that "there is a crime wave at New Barns."
The Positive Story
I am involved with Crocker's Way and Atkins Hill where we have been involved in helping with Neighbourhood Watch meetings and I find a real community feel there. Local people want to feel part of the town and the majority of people are interested in becoming involved with a Local Action Group. This will mean having meetings to arrange new play areas, assisting with Neighbourhood Watch and dealing with any other requests which they could help with.
As recently reported in the Gazette some of the children from this new development have been called 'Beirut Kids' at school. Obviously this comment has come from other parents as children at school today wouldn't have a clue what that means. I am working closely with the schools and am happy to speak to any child who resorts to such name-calling and explain why doing it is so wrong, just as I would if a child called another by any other unpleasant name.
If anyone would like to speak to me please feel free to contact me at Wincanton Police Station either in person or by telephoning our new number '101' and asking to be put through to me. If I am not on duty your details will be sent to me and I will contact you on my next shift.
Jenny Maynard PCSO 8301