Wincanton's focused community website, providing news and information including a full calendar
News » Crime/Police
Thugs raided a Wincanton charity shop early Sunday morning
Monday 16 April 2018, 22:55
By Dave Smith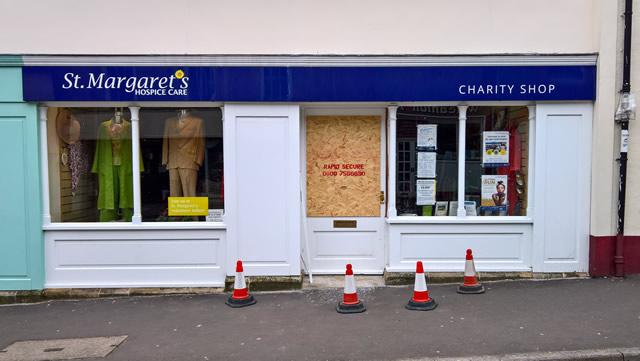 At 5:30am on the morning of Sunday 15th April, three men wearing balaclavas and wielding large tools raided the top St Margaret's Hospice charity shop on Wincanton High Street.
A silver Renault Clio pulled up right outside the shop, and two men entered the building through the large single pane of the front door while the driver remained in the vehicle.
The men carried at least one large, heavy tool, probably a lump hammer or similar, and possibly also an axe. The broken glass was cleared quite neatly from the edges of the window frame, indicating either that it was safety glass; engineered to shatter completely upon being broken, or that the criminals were experienced and took measures to avoid leaving forensic evidence, and to minimise risk of injury.
Fortunately, a few early-rising High Street workers were arriving on the scene at the very same time, causing the burglers to flee, perhaps before they were able to achieve everything they had planned. The two men inside the shop made a hasty exit and bundled back into the car, one of them hopping into the boot before the driver pulled away at speed.
The car was observed making an awkward swerve at the Town Hall junction before proceding down Church Street against the one-way system, perhaps indicating that the perpetrators weren't local or familiar with the roads.
During the burglary, the sound of significant brute force could be heard coming from within the shop, and later it was evident that the till had been opened, but it isn't clear if they men made off with anything of value.
The getaway car had been parked on double yellow lines outside the shop, but, alas, they made their retreat before a traffic warden could issue a ticket.
St. Margaret's Hospice shop staff opened for business as usual the next day.