Wincanton's focused community website for news, views and information including a full calendar
Headlines » Community » Balsam Centre
The Loose Ends Cafe at the Balsam Centre
Friday 19 April 2013, 13:01
By Annette Yoosefinejad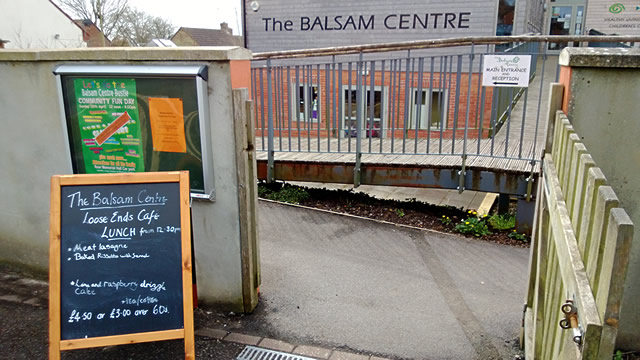 Since August last year, The Balsam Centre has started a Tuesday lunchtime café, from 12.30pm to 2.00pm, called Loose Ends, open to everyone who is, well, at a loose end!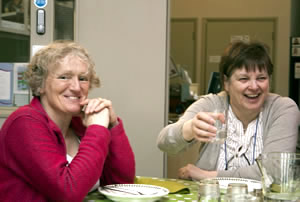 The idea of the café was to provide a place for people to come for lunch and to chat with other diners. There are no small tables for two here, just three large tables, so you can come alone but you won't be eating alone. And we wanted to make it inter-generational, so we invited King Arthur's to send a couple of students to eat and chat with us. Chloe and Lauren join us every week during term time, and have been fantastic, overcoming their apprehensions about talking to people they've never met, and now they know many of the diners by name.
Of course, as a charity, we are reliant on volunteers to help us, and we have had great support from individuals. After a few weeks of my cooking, rapidly reaching the end of my recipe knowledge, and persuading volunteers like Steve Craggs to cook on a one-off basis, Caroline Heath came to the rescue, joining us through SSVCA. Caroline was a professional chef, in the process of changing careers. Nothing fazed her or broke her smile, and she has been so generous with her time, advice and support, not to mention the delicious food she has cooked over the last Eton Mess?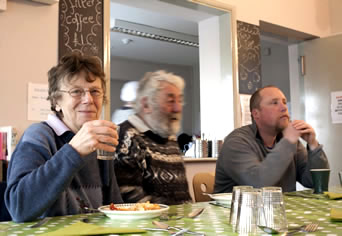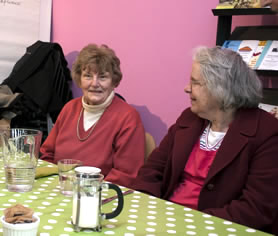 As part of the Job Done Project, helping unemployed people regain confidence and get into work, Hanna was keen on the cooking groups. She had some catering skills and came over to the café kitchen to assist, with the Job Done Project funding a place in the nursery for her daughter, enabling Hanna to develop her skills further with Caroline. Caroline has stepped back now as her pregnancy progresses and Hanna is taking on her role, planning the menus and cooking to perfection, proving that she is more than capable of managing the kitchen.
The Job Done Project have been cooking on other days, honing their own cooking skills by stocking the freezer for us with low fat puddings and baking some delicious vegetarian options for the menu. All the dishes are nut free, for those with allergies, and we can provide a diabetic option for dessert or a low fat alternative for those keeping an eye on their cholesterol levels.
As for the ingredients, the Growing Space at the Balsam Centre have been providing us with all the salads and herbs; wonderful tomatoes last summer, the celeriac in soup - and even chilli peppers - all came from the gardens, as did all the table decorations, the flowers arranged by Wendy and Carraig.
Gradually, the café has been building up and we have a group of friendly regular diners who come to eat and chat, often bringing new faces with them. Through chatting with people in the café, we have gathered new ideas for projects at the Balsam Centre, and picked up advice and help along the way. And some diners have become new volunteers, helping us with other projects.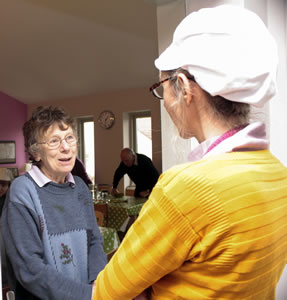 Out of this, the next project in the pipeline will be The Growing Space Barn, we hope. A workshop for woodworking, a space to make furniture, a place to learn how to fix your lawn mower, another opportunity to come and have a chat over a cup of tea, and importantly, a place where skills can be passed on, we hope, to others.
The café costs £4.50 for a two course lunch, £3.00 if you are over 60, and includes a cup of tea or coffee to finish. Look at www.balsamcentre.org.uk for the next week's menu.
And if you're thinking about volunteering, come in and chat to me, Annette, or contact me on 01963 31842, email .