Wincanton's focused community website for news, views and information including a full calendar
Headlines » Community » Balsam Centre
The Balsam Bustle Returns!
Tuesday 8 April 2014, 10:26
By Annette Yoosefinejad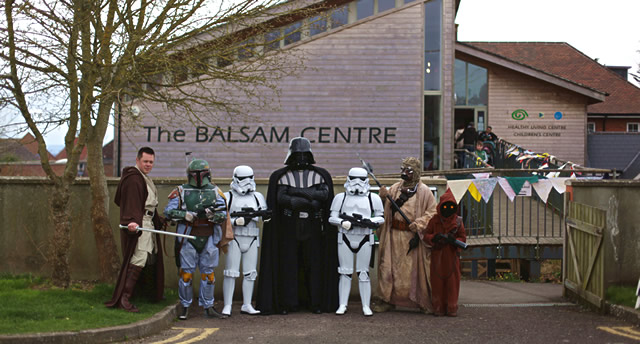 Photo from last year's Bustle, by Oscar Yoosefinejad
Once again, the Balsam Centre is holding a Community Fun Day, the Balsam Bustle, on Sunday, 27th April from 12.00pm to 4.00pm. Last year we had Star Wars Stormtroopers; this year we have Iron Man coming and the theme for the drawing and fancy dress competitions will be "your favourite comic/cartoon character".
The big prize for the drawing competition this year is a fantastic Edix Medieval Village, with ramparts and towers, an inn and market stalls, a harbour and joisting targets, complete with king, queen and jester, all worth £270! So if you're under 12, get drawing.
We will also be running the popular photographic competitions again this year, with an adults and a 16s and under competition. The adults theme is "Colours" and the under 16s theme is "Water". There's no restriction so beyond that you have to use your imagination.
Other games and competitions include a Grand Raffle, a Tombola, gardening competitions (one for adults, one for children), a Human Fruit Machine, and, of course, the lovely Waggiest Tail Competition for dogs.
The ever popular Gladiator Duel will be back on the lawn and Face Painting will be in the Veronica Room, along with vintage clothing. Stalls will be available in the Veronica Room and outside on the drive for Bric-a-Bric. Contact Lynn on 10963 31842 or for more details.
There will be food – lots of it! – burgers, baked potatoes, cakes and icec reams. And music.
And back this year will be the Poster Sale – posters of paintings, posters of people, posters of places, in all shapes and sizes.
So come and join us for family day of fun!