Wincanton's focused community website, providing news and information including a full calendar
News » Neighbourhood
Stonewater just launched a new rent-to-buy scheme in Wincanton
Wednesday 16 January 2019, 19:06
By Yerin Seo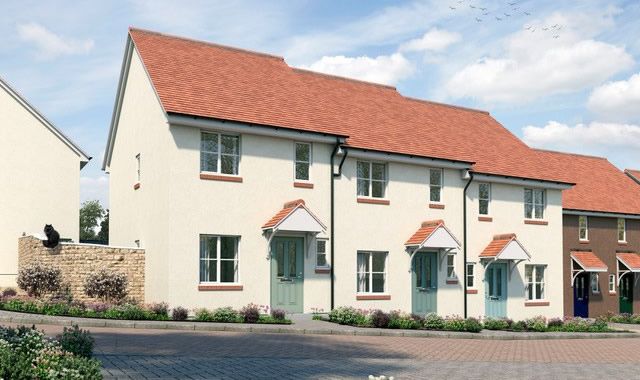 Stonewater, a leading social housing provider, launched its first rent-to-buy scheme on 11th January 2019. In partnership with South Somerset District Council, Stonewater's first new homes development featuring affordable homes for local people taking advantage of Rent to Buy is nearing completion at Balsam Park in Wincanton. The properties will be available for rent at 80% of market for a similar property to enable tenants to save the deposit to buy the home they are renting at the end of the five-year rental period.
The new scheme is designed to give working families the realistic opportunity to work towards owning their own home whilst renting it. The principal idea for the scheme is – rent now, buy later. Getting on the property ladder while you pay rent each month is difficult. A huge proportion of your monthly income goes towards your rent and saving enough money for a deposit at the same time often seems impossible. Now you can rent a brand-new home at 80% of the market value rent, with an option to purchase the home at the end of the tenancy.
The organisation's first Rent to Buy scheme is at Balsam Park, Wincanton, conveniently located within walking distance of the High Street. The development will feature 15 new homes; seven two-bedroom and eight three-bedroom houses.
In line with Stonewater's commitment to provide high-quality affordable homes, all 15 properties will feature private gardens and parking for two cars. The homes will also be energy efficient, resulting in lower utility bills and housing costs to make tenancies more sustainable. Construction by the Somerset-based developers Halsall Construction is nearing completion, and the new homes are due to be available for rent at the end of February.
The houses will be offered to prospective tenants where a minimum of one member of the household is in paid work. Though there is no maximum income cap, Stonewater is committed to help those whose needs are not met by the open market. Both first time buyers and buyers who are returning to the market are welcome as long as you do have an intention to purchase the home after five years.
"I am absolutely delighted to announce our first Rent to Buy homes in Somerset. As house prices in the South West continue to rise at a faster rate than incomes, the scheme offers hard working families a realistic opportunity to work towards owning your own home whilst renting. Affordability is a real issue in South Somerset with the average house costing £226k and average private rents at £617 per month. This innovative scheme will make a huge difference to the 15 households that will initially rent the homes but, perhaps more importantly, will contribute to tackling the housing crisis nationwide."

- Susan Edwards, Sales & Marketing Manager, Stonewater
"Many people, particularly young families who support local services and businesses in the area, are being priced out of their community because housing is simply too expensive.

"We hope that these new affordable homes will go some way to tackling the housing shortage in the area and help more local people find a good quality home close to their friends, family and workplace, at a price they can truly afford."

- Val Keitch, Leader of South Somerset District Council