Wincanton's focused community website, providing news and information including a full calendar
News » Wincanton Window
Somerset Life Discovers the Charms of Wincanton
Monday 2 June 2014, 17:56
By Mandy Cochrane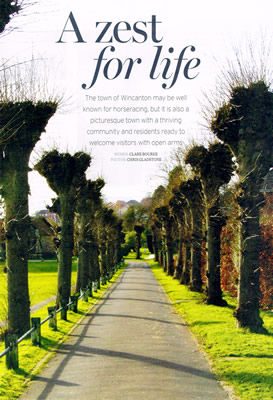 Upmarket regional magazine Somerset Life published a flattering three-page promotion of Wincanton in their April edition, describing its air of tranquillity, eye-catching architecture, pretty streets and long history of warm welcomes.
The first page of the review showed a full page photo of the avenue of trees through the recreation ground towards the cemetery. The headline read, "A zest for life", followed by, "The town of Wincanton may be well known for horse-racing, but it is also a picturesque town with a thriving community and residents ready to welcome visitors with open arms."
Page two featured a photo of the Town Hall (expounding on the encyclopaedic local knowledge of Sam Atherton and Muriel Cairns), and another of Reb Voyce and Bernard Pearson at the Discworld Emporium. Bernard described how Wincanton became associated with Terry Pratchett's Discworld books and events, which attract many thousands of visitors to Wincanton each year from around the world.
Also on the second page was an exciting mention of Wincanton Window! I'd been contacted by a journalist some weeks prior, asking how the Window came about, what we do etc, and few statements about the town. Sceptical as I often am, I doubted we'd ever actually see our name in print once the whole feature was edited, so I was thrilled to see a full-length column devoted to us!
Page three of the feature concentrated deservedly on Wincanton Racecourse, a major draw to Wincanton for many visitors from far and wide throughout the racing season.
Other mentions were given to the Lemon Tree Delicatessen, local walks, the CATCH team, Amour, The Wardrobe, Divine Wines, the golf course, Wincanton Sports Centre and the Sports Ground.
Somerset Life's usual brief in this genre of article is undoubtedly to paint a rosy picture of whichever Somerset town it's featuring. However, as I read the piece for the first time, I remembered that my own first impressions of the town when I moved here ten years ago were of a similar rosy nature.
Whilst it's true to say that Wincanton can't ignore the essential improvements required to improve both its kerb appeal and its economical framework, it's perhaps also the case that visitors with fresh eyes often see things that residents of longer duration no longer see.
Internally, Wincanton may have its share of issues, as does any town. Cynics will no doubt scoff at some of the extravagant compliments paid by Somerset Life, but as a crucial piece of marketing coming at a time of year when many people are planning good-weather day trips, short breaks and holidays from further afield, this kind of publicity for Wincanton is priceless.