Wincanton's focused community website, providing news and information including a full calendar
News » Neighbourhood » Cale Park
Shiny new picnic benches for Cale Park play area
Wednesday 26 July 2017, 19:29
By Dave Smith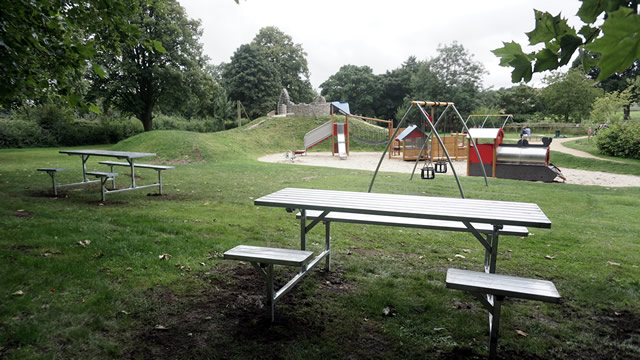 The recently refurbished play area at Cale Park now has two shiny new picnic benches. There has been a couple of places to sit within the play area since the refurbishment, but no raised table surfaces for picnics and the like, and nothing at all at the east end.
The benches are adjacent, and both overlook the sandpit and swings where the littlest people are likely to spend most of their time. They're also close enough to the big trees that they should get some shade from the morning sun.
The benches have a traditional design, including slits for drainage, but the Cale Park Working Group prioritised plenty of leg room below the table surface, and a wheelchair-sized gap on one side. Wheelchair users should have no problem rolling right up to either table, with plenty of room on either side for another person to sit.
The benches are of metal construction and built to last. Obviously fire resistant, they ought to be relatively indestructible when compared to wooden alternatives. The Working Group opted to leave the metal its natural colour after receiving advice against typical coating methods, which are prone to unsightly degradation, and can chip and flake and become a potential hazard.
The benches were proudly made in Wincanton, by Malcolm Sansam Welding on Wincanton Business Park, BA9 9RQ, 01963 32940.
These new additions swiftly follow the installation of the drinking water fountain and the return to service of the car park toilet, both of which took place earlier this month.