Wincanton's focused community website, providing news and information including a full calendar
News » Health & Fitness » The Studio
Shapemaster - Exercise for Everybody
Wednesday 14 March 2012, 13:51
By Dawn Old

Forget the hype! It is important that I let you all know what power assisted exercise can do for you. For the 80%+ of people who do not want to join a gym this is a way to get exercise and improve your life and your health. If you think that exercise means you have to wear Lycra, feel the pain, sweat profusely and plan to put aside a couple of hours three times a week to accommodate changing, exercise, showering etc., then think again.
Originally developed and used for helping with recovery and rehabilitation from strokes, MS, diabetes and other injuries and illnesses, the machines continue to be an invaluable and resourceful way of exercising in a controlled manner. At The Studio we have a beautiful and relaxing area where we can help people with exercise. Make no mistake - using these machines can improve the movement, strength and flexibility of the people that use them when they need it, at the most basic level. More recent developments of the machines have led to their use for inch loss, toning and flexibility.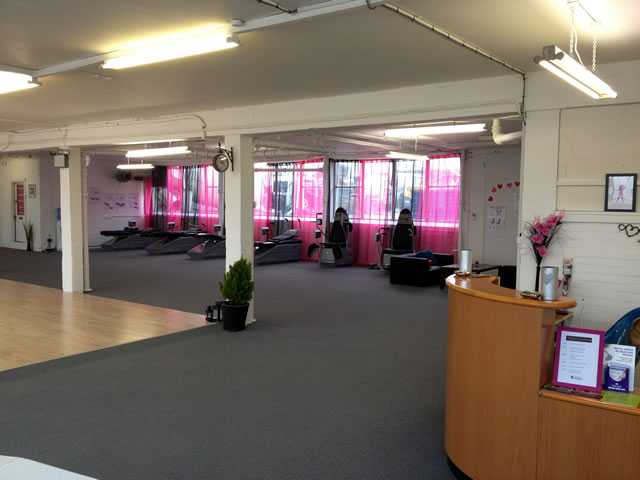 Toning tables will help even the least fit of people to lose inches, tone muscle, gain energy and feel good! Anybody aged 18 or over can join. Many of our customers would not want to visit a traditional gym but like the opportunity to exercise regularly for health and weight reasons. In our centre you come as you are! There is no need to change into special clothing, just wear something comfortable that you can move around in. All you need is a pair of socks and a towel. The machines help you do the rest!
Our aim is to help support and encourage you to meet the goals you choose, but no pressure - if you don't feel like putting in some extra effort then let the machines take the strain. The thirty minute exercise routines can be slotted in at any time of the day. After you've exercised you go shopping, work, pick up the kids - so easy! No need to shower or change.
This is a very exciting time for us. We can now help clients exercise, regain and improve their quality of life in an environment that is relaxed and fun. I encourage everyone to take advantage of a free trial. I know they'll be impressed. There is nothing to lose... except inches!
Phone us on 01963 34430 for an appointment, or call in. We're at Tythings Yard, Wincanton BA9 9RZ, just opposite Roberto's Car Wash.