Wincanton's focused community website, providing news and information including a full calendar
News » Nature » C.A.T.C.H.
River Cale Clean-Up: Tomorrow's Plan
Saturday 9 February 2013, 20:42
By Matt Bishop / Garry Hunt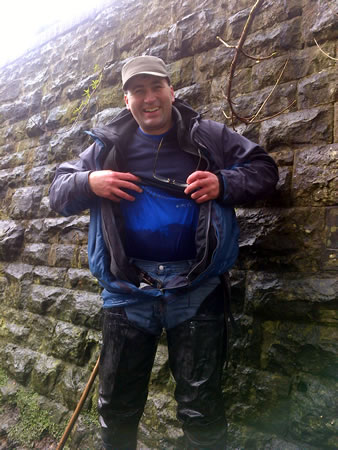 Despite tomorrow's forecast not looking to be in our favour we don't want to delay making a difference to the state of the River Cale any further.
Acting on the theory that any rubbish near to the river will eventually migrate into it we would like, at the very least, to do a general litter pick of the surrounding area.
With the present forecast it looks very doubtful that we'll be able to get near the river, let alone in it safely. With that in mind we would stress that any children attending must be kept under extremely close supervision.
As it stands we will all meet as planned at Gillams car spares for 0930 tomorrow.
I'm sure you will be pleased to know that Gary and I had an extremely successful day today helping mike from the Wild Trout Trust to survey the river for the next stages of habitat enhancement. This is despite me falling in up to my neck, and entering the first stage of hypothermia. Luckily, the only injuries sustained were Gary's stomach muscles from laughing.
Hope to see you tomorrow, bright and breezy with waterproofs and wellies.
Matt Bishop & Gary Hunt