Wincanton's focused community website, providing news and information including a full calendar
News » Community » Repair Cafe
Think hard before you discard! Get it mended at the Repair Café
Wednesday 21 July 2021, 19:29
By Alice Glover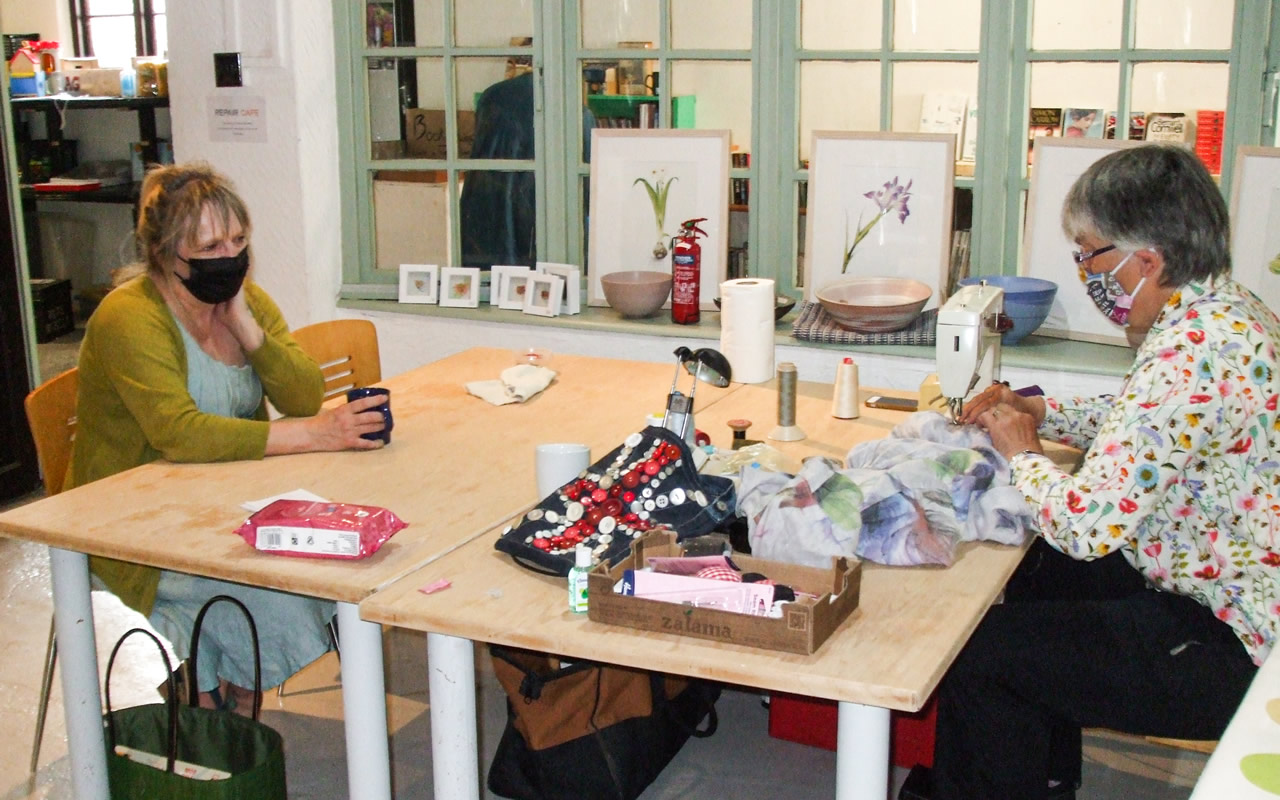 Care to repair?! As someone who is often dismayed by our disposable culture and the colossal amount that goes to waste, it was refreshing to see so many in Wincanton 'make do and mend' at last month's Repair Café. Following the success of their first session at 'zero-waste zone' Cole's Yard, Jane and her team of good-natured fixperts will be at it again! From 10am-1pm on the 24th July, they'll be bringing their talents to bear on those essential household items and treasured, irreplaceable heirlooms, for free!
Clothing and fabric
Returning to the Café this month will be exceptional seamstress Julie, to save your fabric and well-worn clobber from the chopper by refreshing the clothes you already own. Of course, needlework requires a meticulous attention to detail, but Julie takes it to the next level! As Mandy discovered when she asked her to repair her favourite dress.
"Not only was it my favourite" she tells me, "but it also has real sentimental value as I wore it to my daughter's wedding. Even though it had a frayed seam, I just couldn't bear to part with it! Thankfully Julie had managed to work her magic by gathering the seam in a little to disguise the fraying. The stitch was so immaculate, you couldn't even see it and now it's as good as new!"

- Mandy, who had her beloved dress repaired by seamstress Julie
Victoria M has also applauded her work.
"I was convinced that a huge tear in the fabric meant the end of my much-loved top", she said. "But thanks to Julie and her exquisite craftsmanship, it has been given a new lease of life!"

- Victoria M
In addition, there's no need to get crochety about snags or holes in your crochet as darling of darning and crochet expert, Vicky will be there to offer a helping hand. Alterations can also be made to ill-fitting garments with fallen hems for example, or material that needs to be let out for a bigger size.
Jewellery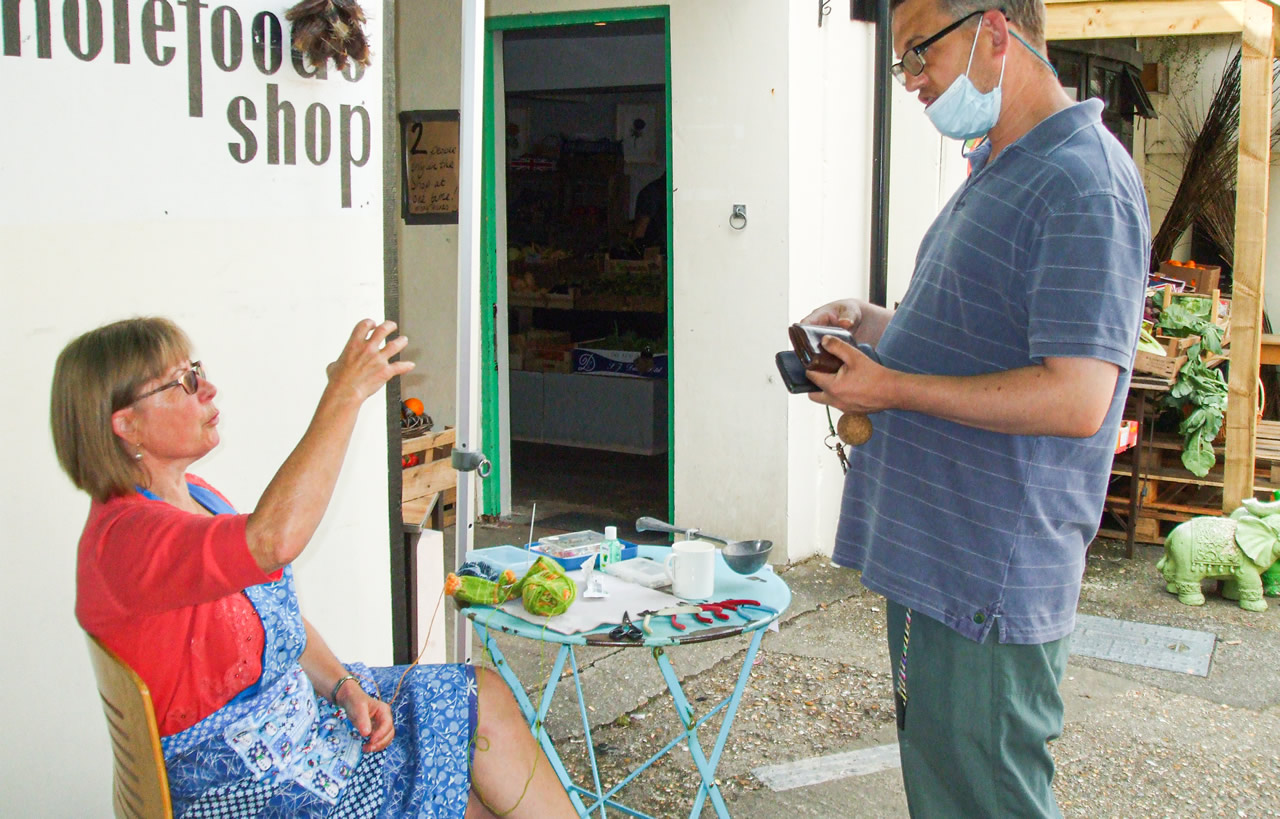 For jewellery repairs, affable enthusiast Linda is your missing link! While replacing lobster clasps and adjusting jump rings on regular necklaces and bracelets, she received a particularly touching request.
"My most exciting task", she exclaims, "was to mend a gold bracelet with a broken link that was given by a granddaughter to an elderly, house-bound lady. Luckily, I had a tiny jump-ring to hand that fitted perfectly, and she was so impressed with the result that she donated £10 towards our running costs!"

- Linda, volunteer jewellery enthusiast
In addition, if Linda lacks the skills to mend a specific item, she will happily refer you to specialist jeweller, Alex Appleton to support local trade. Mandy is also looking forward to bringing along her sterling silver necklace modelled on the Uffington White Horse from late, great fantasy fiction writer, Terry Pratchett's Discworld, handcrafted by Barrie, the Discworld jeweller himself!
Clockworks and furniture
Within the Café, there is a great respect for tradition as most of the fixperts use invaluable heritage skills that would otherwise be lost. They will not only restore the object itself but also the cherished memories behind it. Take Trevor Findley, for example. Trying to fix your clockwork toy needn't be a wind-up with him on board! Specialising in clockwork model trains, Trevor will endeavour to get your beloved locomotive back on track. He will also tend to small pieces of damaged furniture, whether they're wonky, water-marked antiques or just displaying a few surface scratches.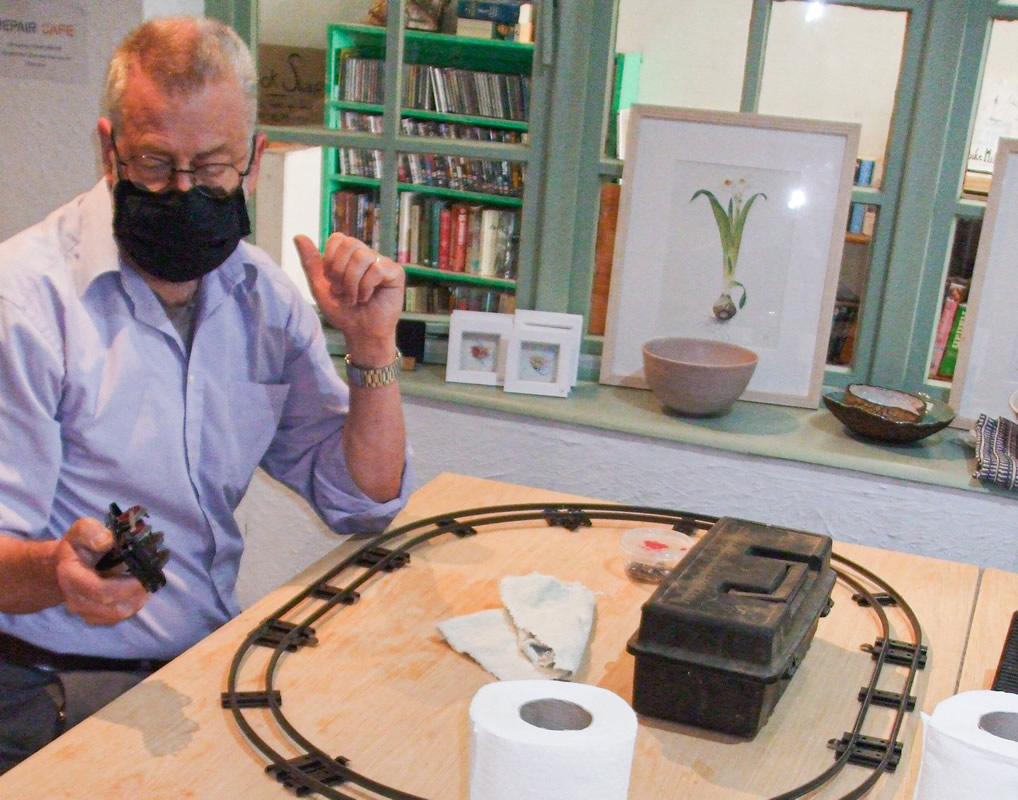 Leather
However, there's a new addition to the team! Master saddler and leather expert, Robert Dibben. While he specialises in saddle repair, overhaul and fitting, he can also restore sumptuous leather clothes and accessories such as belts, bags, purses and even the leather straps that are often found on prestigious vintage cars. From scuffs and scratches to tears in the lining, with his superior workmanship and with champion trainer Paul Nicholls as a former client, Dibben certainly has a handle on the many forms of repair!
Bicycles
In addition, it may be time to give that Chopper bike, Dawes, Rudge or even a classic Claud Butler with Campagnolo gears a new lease of life! There's often many a find in dusty garages with a snapped chain or puncture, that once fixed could prove to be quite valuable. The new bicycle expert, Brad would be only too willing to resurrect these flat, tired projects!
Another key member of the team, John, has offered to assist in all things non-mains electrical such as toys, gadgets and torches.
Computers
Now to bring things up to date! Is your computer failing to function? Are you currently kicking yourself for not backing up a file? Or maybe there's a maintenance issue with the device itself? On Wednesday 28th July from 10am-12pm, whatever your cyber mishap, whether it's with a tablet, laptop, Mac or PC, these issues can be addressed at a free, monthly one-to-one advice session.
A Repair Café is a truly unifying force! Over the past year we have all learnt the importance of community and what better way to restore it than to gather people together to share their skills, and in turn help the environment. As Linda so heart-warmingly explains:
"it's not only helped us to realise that we have been too profligate with our resources, but it has also provided much needed camaraderie and warmth during these dark times. I almost felt as if I had come home!"

- Linda, volunteer jewellery enthusiast
---
Related articles