Wincanton's focused community website, providing news and information including a full calendar
News » Neighbourhood » Cale Park
Renovation of the Cale Park shelter has finally begun
Wednesday 15 November 2017, 22:45
By Dave Smith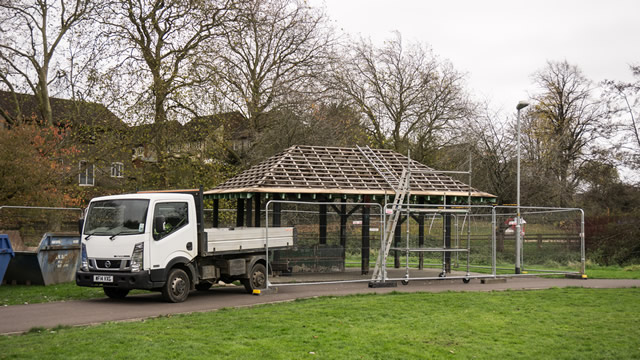 Cale Park has seen a lot of action in the last 18 months, including the opening of the new play area and footbridge. The plumbing has finally been done, so the car park toilet is back in service and there's a shiny new water fountain. But one major eyesore still blotted the landscape. Until now.
The Cale Park Working Group, led by Wincanton Town Council and responsible for all the work being done to develop the park, has been making plans to renovate the decrepit shelter that sits on the path between the bridges, overlooking the green and the river. A focal point of the greater park area, and the only publically accessible shelter for quite some distance, it's the next logical step in the development.
Several years ago, the shelter was vandalised and so much material had to be removed for safety that very little seating remained. With standing room only it has been considerably less useful to most, but it is fortunate the primary structure was strong enough to stay standing all these years.
The bottoms of the wooden supports have cracked and rotted to ground moisture, and there's precious little below roof height worth saving, so all the posts will be replaced. The good news is that the inner roof structure is still in good condition, having been protected the most from the elements, so that will likely be recycled.
The new shelter will have brand new tiles; this time metal and considerably more durable but styled to look traditional. There will be two 8ft benches, one facing the field and cricket pitch and the other the river. They'll be fashioned from bubinga wood, which is extremely tough, resistant to denting, splitting and even fire. The project is intended to be an investment in durability and longevity, but in keeping with the aesthetic appeal of the other recent developments.
The shelter stood on a concrete platform several inches proud of ground level making it awkward for wheelchair access. This time it'll be made flush with the path so nobody will have any needless difficulty.
T A Green Builders of Wincanton have been contracted to rebuild the shelter over the next four to six weeks. They began dismantling it yesterday with a view to removing the roof section to renew off-site, so for the time being the entire shelter has been removed and won't reappear for a little while.