Wincanton's focused community website, providing news and information including a full calendar
News » Community » Balsam Centre
Race Night Fundraiser for the Balsam Centre
Monday 16 February 2015, 19:20
By Lynn Ward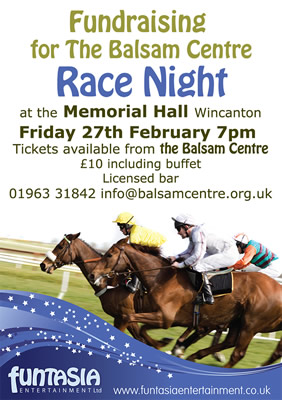 Get a group of friends together and come to the races on Friday 27th February! The Balsam Centre is hosting an evening of entertainment from 7.00pm at the Wincanton Memorial Hall to raise money.
This will be a fun evening, with all the thrills and excitement of a day at the races! Three hours of entertainment with music and video clips played between each race of the eight races, which will be shown on a giant projection screen, with guests betting on the outcome of each race.
The ticket price of £10.00 includes a buffet supper and drinks can be bought from the licensed bar. Tickets are available from the Balsam Centre.
Sponsor a race for £25
Would you like to sponsor a race? There are eight races and for £25 you will not only have our grateful thanks but you or your company's name printed on all the race cards and on the screen.
Name a horse for just £2
You can name a horse for just £2 - any name you chose, as daft as you like (just like the real races, then!). Before each race, the horses will be auctioned so that you can be the horse owner for the night. If your horse wins then you will receive half the winnings!
Tricast bets
Winners are paid on first three past the post on any chosen race. Place your bets...
Race nights are a fantastic way to include everyone with a social event full of fun, drama and perhaps if you are lucky, winning some money! We hope you will be able to attend and bring friends!
Tickets are limited so please book your place soon.