Your source for Wincanton's latest news, views and information, covering Wincanton and surrounding towns and villages
Headlines » Community » Obituaries
Pothole Claims a Life - Margaret Nicholl
Monday 28 March 2011, 10:56
By Richard Nicholl, John Baxter
On Saturday 12th March Margaret and Richard Nicholl were enjoying a ride through Shepton Montague on their way to meet up with a group of their cyclist friends. Going rapidly down a hill Margaret hit a pothole and came off her bicycle, sustaining a severe head injury. As Richard knew immediately this was very serious he called emergency services and the Air Ambulance flew in to collect her and take her to hospital in Bristol. Despite an operation there she never regained consciousness and died.
This abrupt and unexpected tragedy had happened to someone who was an exceptionally experienced cyclist. Margaret and Richard have been members of the Cyclists Touring Club, the UK's 65,000 strong National Cyclists Organisation, for forty-five years and only seventeen days earlier they had both been awarded the CTC's highest award, the "Certificate of Merit" for their long years of devoted service to the club.
Margaret and Richard settled here in 1997 on their retirement from the Civil Service and in Wincanton they successfully started up a branch of the CTC (as seen here) as they were about to set out on a ride on what was a bitterly cold January morning in 2007.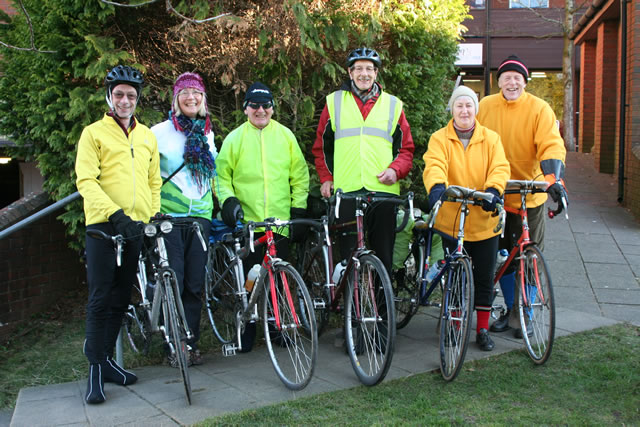 (Picture by John Baxter. Margaret and Richard in orange on the right.)
Margaret loved cycling and was familiar not only with our local country lanes, but with the country lanes in many parts of the country and when younger they cycled the mountain passes of Switzerland and Austria, Italy, Germany and Norway.
Richard was responsible for maintaining mechanical and electrical installations in government buildings around the country and this resulted in him being posted to many different places. As a result, together they were able to set up new CTC groups where formerly none had existed in Salisbury, Aberdeen and Blackmore Vale. In each place they made many friends.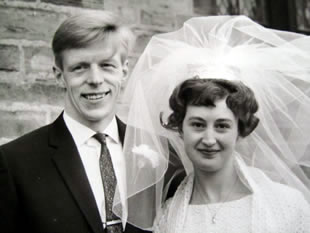 Margaret and Richard both came from Halifax and they first met on a hiking holiday in 1958 at the Linton in Craven Youth Hostel in Yorkshire. It was not exactly love at first sight. Margaret, along with two other girls, raided the boys' dormitory and among other things hid Richard's jacket and his precious wallet. Guessing who the likely culprits were, he threw her over his shoulder in a fireman's lift and carried her down to the river, threatening to tip her into the shallows if she did not tell him where his things were. Her two friends then surrendered the goods. Was that the start of their romance? Oh no. It took another three years before they "started courting." at Malham.
After they were married tragedy struck them twice when they had a little girl who died while a small child and when a second pregnancy ended in a late still birth. After that Margaret felt she was not ever going to be a mother.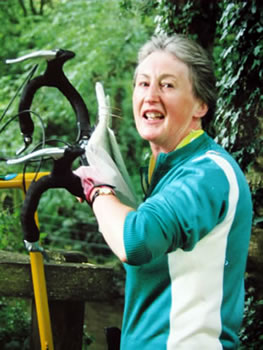 Along with cycling the two of them enjoyed the other interest which had initially brought them together, hiking and walking. They accomplished an amazing number of walking holidays. New Zealand, Hong Kong, Nepal, the South African Garden Route, the Grand Canyon, Cuba, Costa Rica, Chile. Then there were the European walking tours to Cyprus, Malta, Dubrovnik, Florence, Rome, Sorrento, Madeira and Lanzorote.
With Richard so often on the move Margaret looked for work where they went and enjoyed working in Post Offices until finally getting a civil service job in Aberdeen.
Why settle in Wincanton? They had already been around in Somerset and loved it and were looking for a town not saturated with visitors. Wincanton fitted the bill. They have found the town open and friendly and it has suited them very well.
The date for the funeral at Yeovil Crematorium has not yet been set, but will be advertised in the Diary on the Window and it will be followed by a reception at the Memorial Hall in Wincanton.
Richard does not want flowers, but any donations will be divided between the Dorset and Somerset Air Ambulance and Arthritis Research.