Wincanton's focused community website, providing news and information including a full calendar
News » Nature » Gardening
Plants with Pzazz for Late Summer Colour
Tuesday 24 August 2010, 16:27
By Sarah Darlington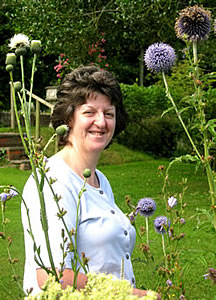 Angela Winfield, Plantswoman and
creator of Snape Cottage Garden,
seen here with spiky Echinops ritro
or Globe Thistle in the foreground.
"It's alright from a distance with your eyes half closed," says Angela Whinfield of Snape Cottage in Bourton. It's a modest assertion as the cottage garden is ablaze with colour and abuzz with bees.
Angela has been gardening at Snape Cottage for 22 years. She's a plantswoman - a term Wikipedia says 'is usually intended to mean a connoisseur of plants or an expert gardener... one who loves plants for their own sake and knows how to cherish them'. It's a term which could have been coined especially for Angela.
I'm looking for some ideas on planting late summer bloomers - plants with pzazz for this rather tired end of the season -- and Angela's collection of plants, all chosen for their interesting histories as well as their colours and forms, provides plenty of ideas.
First to catch my eye is not a plant at all but a silver-washed fritillary butterfly floating over a patch of wildflowers and native grasses. Angela reels off a litany of poetically named wildflowers: Agrimony, Betony, Scabious, Yarrow, Bird's Foot Trefoil, Viper's Bugloss and orchids. Typically, wildflowers grow best in poor soil and Angela has sown the parasitic Yellow Rattle to reduce the grass content as she used to manure the soil heavily to grow vegetables on this spot.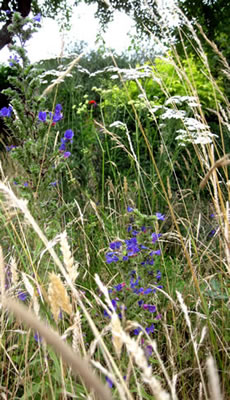 Viper's bugloss in Angela's meadow area
The attention to providing habitats and food plants for wildlife is one of the key considerations for Angela and becomes a theme as we look around the garden. She has three patches of meadow, the largest measuring about five square metres. She cuts each one after flowering, the first in May after the bluebells, campion and cow parsley, the second, home to snake's head fritillaries and her collection of old varieties of daffodils in June and the last at the end of August. The flowers are given time to seed, then the mowings are composted to avoid enriching the soil.
"We used to close the garden to the public in August," says Angela, who has been opening the garden through the National Garden Scheme for over twenty years, "but I wanted interest every day of the year. I did a lot of planning and visited other gardens at this tricky time when so many plants are overblown and now I think it's one of the garden's best periods."
Angela considers the plants' needs first and researches aspect and soil requirements carefully before planting. She doesn't see herself as a designer but she clearly has an eye for complementary plant combinations. "It's the hardest art form you could choose," she says, "The palette and canvas are constantly moving and changing perceptibly."
She makes the most of the fact that there are a lot of flying insects around at this time of the year and plants lots of cool blues and yellow-flowering plants - colours attractive to bees as well as to humans.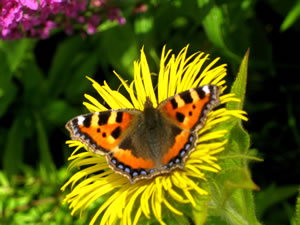 Tortoiseshell butterfly and
daisy-shaped Inula hookeri
Her spiky Echinops or Globe Thistles and Eryngiums (Sea Holly) thrive in hot, dry conditions. Their architectural shapes contrast well with the blue spikes of Agastache; 'Blackadder' is a good one. They also look great with the flat yellow blooms of Achillea 'Gold Plate'.
Angela tends to plant big clumps of larger perennials rather than dotting them about. Heleniums, bold daisies in spicy shades of paprika, chile and turmeric, look fantastic with tall grasses. Like the yellow Inula hookeri, these prefer a sunny spot with damp soil. The repeated similar daisy shapes of Rudbeckia fulgida 'Goldsturm' and the first mauve blooms of Michaelmas daisies create a sense of rhythm through the garden and contribute to the cottagey look.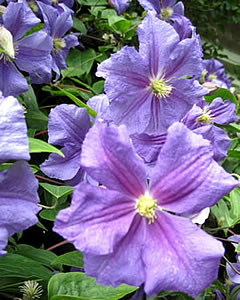 Clematis Perle D'Azur
Lifting the gaze, late-flowering Viticella clematises take over from the roses on arches, through trees and over the elegant structures made by Angela's husband, Ian, who makes and sells plant supports called Snape Stakes. The pastel blue of Clematis 'Blue Belle' complements a lemon hollyhock and on the house, the shades of purple ripple through Clematis 'Perle D'Azur' and English lavender culminating in delicate fronds of Verbena bonariensis.
Angela doesn't expect the whole garden to be a riot of colour all the time. There are quiet places where the subtle leaves of cyclamen, pulmonarias (Lungwort) and brunneras which were important nectar plants in the early spring now provide a foil to the summer's more flamboyant performers. It's all part of creating a journey around the garden, with ever changing sources of interest.
This peaceful cottage garden is organically managed with minimum interference. It's been 'no dig' for over twenty years. The collection of rare and beautiful plants, many the favourites of kings, queens, nurserymen and plant collectors, are all labelled so it's a great place to learn and be inspired.
To see it for yourself and have a chat to Angela, visit Snape Cottage Garden on the last weekend of each month. Next opening: August 28th and 29th. A variety of hand-made Snape Stakes and plant supports will be on sale.
Ten great plants for late summer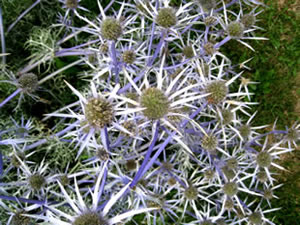 Eryngium or sea holly
Crocosmia: Blade-like leaves and lily-like flowers. 'Lucifer' is bright red and 'Solfatare' has fabulous bronze leaves and orange flowers.
Heleniums: big daisies which like sun and some moisture. Try 'Moerheim Beauty' and 'Sahin's Early Flowerer'.
Eryngiums or sea holly: spiky and architectural plants.
Echinaceas: More daisy shapes in shades of crushed raspberry. Try 'Fatal Attraction'.
Michaelmas daisies: Lots of varieties. Try Aster frikartii 'Monch' for a mildew-resistant variety. Solidasters, a cross with golden rod has delicate yellow sprays.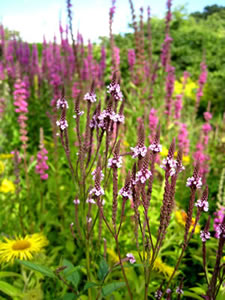 Spikes of verbena hastata and
lythrum salicifolia contrast with the
colour and shape of inula hookeri
Achilleas: ornamental versions of the common Yarrow: 'Gold Plate' is good; other popular varieties in a range of autumnal colours include tawny 'Walter Funcke', 'Summerwine' and 'Credo' which is creamy yellow.
Clematis viticella: fantastic, delicate late-flowering climbers. Yellow 'Bill Mackenzie' is vigorous and looks fab with a honeysuckle like Graham Stuart Thomas. I also like Madame Julia Correvon which is wine red.
Sedums or ice plants: these fleshy leaved plants thrive in a hot spot and in September are covered in butterflies. Try 'Purple Emperor'.
Verbena bonariensis: Tall airy fronds with dainty purple flowers. Verbena hastata has delicate mauve spikes.
Phlox: tall and scented, these will thrive in partial shade.
For more ideas, see my blog for July on sarahdarlington.co.uk.
Whether it's a window box or a grand estate, if you have a garden which you think would interest our readers, contact me: