Wincanton's focused community website, providing news and information including a full calendar
News » Crime/Police » Police
PCSO Jenny Maynard Reports Back
Monday 21 February 2011, 13:22
By Jenny Maynard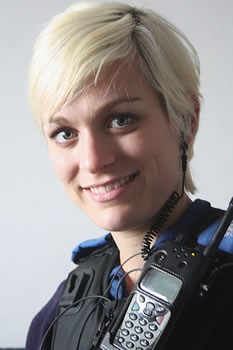 What I have been up to so far in February 2011:
Working in Schools
I've already had a busy start to the year, and its only just February! At King Arthur's I've been taking part in various thing such as PSHE (Personal, Social and Health Education) lessons for the first year (year 7) pupils, teaching them about my role as a PCSO and what we as police get up to in the community.
As this week is 'Anti-cyber-bullying week', I spoke to the year 10 students in assembly about the damaging effects of cyber bullying and what they can do to stop it.
On the 14 January 2011, the Yr 1 children from Wincanton Primary School came to Wincanton Police Station for a visit. I showed them round the station and the police cell, and then took the children's fingerprints as a souvenir for them to take back to school. I then gave them a demo of how all the flashy and noisy bits on a police car work. The children loved it and the visit helped them with their school topic of comparing today's Police Service with that of the Victorian times.
Parking
As a Market Town, Wincanton has always had problems with parking, but as the town has grown, so the problems caused by the increased number of cars, lorries and coaches has become greater.
The main problem area for inconsiderate parking is in the High Street where double yellow lines can be seen. Can I please ask all drivers to refrain from parking on the double yellow lines, they are there to keep vision clear for road users and to keep pedestrians safe.
You will regularly see PCSO's patrolling the High Street area issuing penalty fines to vehicles that are causing an obstruction or parked on double yellow lines.
I have also been keeping an eye on parked vehicles causing an obstruction on the junction of Waterside Rd and South Street, Wincanton. This concern was raised by residents living in the area, where visibility was reduced causing a danger when pulling out of the junction. I understand that there is very limited parking in this residential area, but where possible can drivers please keep the junction free from obstructions.
Anti social behaviour calls for Wincanton
So far in 2011, calls relating specifically to Anti-social behaviour have been lower than those relating to previous months with only 5 calls from Wincanton in January 2011. As a PCSO one of our roles is to carry out Anti-social behaviour patrols in the evenings and on a Friday and Saturday evening so if you experience any form of ASB in your area, please contact us and let us know what is happening so we can help.
Graffiti
Concerns have been raised about the reappearing graffiti on the skate park on Southgate Rd, Wincanton. The Town Council maintain the ramps for our young people to enjoy and use sensibly. However, the graffiti that repeatedly appears on the ramps is causing an unnecessary cost to repair the surface of the skate park. This damage is threatening the future of this well loved facility, so if anyone does have any information about who is causing this damage, could you please get in contact with the police, so we can investigate further.
If you have any queries or concerns, you can contact me via the Avon and Somerset Website, or on 0845 456 7000.