Wincanton's focused community website, providing news and information including a full calendar
News » Politics
Our General Election - A Wincanton Perspective
Monday 17 May 2010, 13:34
By John Baxter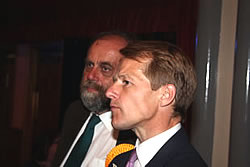 David Heath and David Laws await results
Never has the outcome of a General Election been so unpredictable and never has the final outcome turned out to be so unexpected. Neither David Heath not David Laws ever imagined it would end with the one Deputy Leader of the House and the other First Secretary of the Treasury.
What we do know is that here in Wincanton we have been through quite a contest. First, how did those candidates we saw at our hustings do? Here are the full results.
Conservative Annunziata Rees-Mogg - 26,976
Liberal Democrat David Heath - 28,793
Labour David Oakensen - 2,675
UKIP Barry Harding - 1,932
Independent Leave-the-EU-Alliance Niall Warry - 236
This means David Heath was re-elected as our MP with a majority of 1,817 votes, the largest majority he has ever had. He has subsequently pointed out that this was the 4th largest total Lib Dem vote of any constituency in the country.
Because the two main parties, Conservative and Liberal Democrat, have been so evenly matched here for so long, the Somerset and Frome Constituency is always a hard fought contest. As a result, because people know their votes can make a real difference, this brings more people out to vote than happens nationally. Last time our overall turnout was 69.55%. This time it was an amazing 74.42%. This then has been an election which despite all the general disillusion provoked by the expenses scandal, has stirred people up to come out and vote. Why?
Clearly the single biggest factor has been the TV debates between the three party leaders. Seeing all three go head to head on their policies and getting some idea of their personalities has been fascinating and informative even for those who "don't usually do politics." Another important factor though, is the local campaigns. This has meant for us in Wincanton and the villages round about being bombarded for weeks by leaflets, phone-calls and canvassing. Much of this has been carried out by the small number of party members and party activists, both Liberal Democrat and Conservative who have volunteered to put in an enormous amount of time and energy to do this. For the Liberal Democrats there has also been a heartening appearance of young people and students who have been prepared as never before to get involved as interns and canvassers to support David Heath. For them the issue of "fair votes" i.e. some form of proportional representation - a key Liberal Democrat policy, is seen to be crucial.
The Electoral Commission reports that nationally the Conservative Party received donations to fight their campaign amounting to £4,322,403. For the Liberal Democrats the total was £204,000. This meant locally that the Conservatives had much more to spend on staff, printing, advertising, postage and backroom research than the Liberal Democrats. The Liberal Democrats had to rely heavily on their supporters delivering their leaflets. Few could be posted.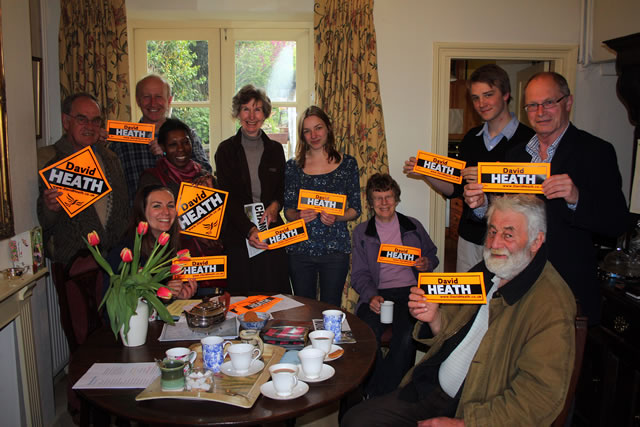 Canvassers in Wincanton get ready for the eve-of-poll delivery
So what has it all felt like? For a Liberal Democrat activist the answer is "pretty exhausting and relentless." By the end we were covering Wincanton with leaflets several times a week. It gave us all a pretty good idea of how tough the job of being a postman is as we discovered so many of the letter boxes of Wincanton can easily cut your fingers and there are a good number of dogs lying in wait to try and bite them. The vast majority of the people we met however, were pleasant, friendly and ready to engage in discussion. One thing was very clear. A surprisingly large number said they were undecided as to how to vote - right up to the last moment. People fear what the credit crunch might bring, but almost all said they wished to see Gordon Brown go. At the same time many said they admired David Heath and felt he works very hard for Somerset.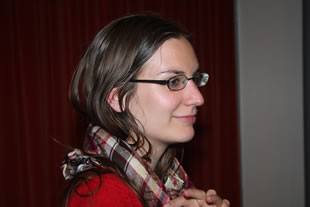 When the day of the election arrived our home in South Street and a home in the High Street were designated the Committee Rooms for the Liberal Democrats and the Conservatives respectively. This meant putting up official posters in our windows and the display of notices on our walls warning us against voter fraud and any form of malpractice.
We had a wonderfully keen and capable intern from Frome to run our computer and teams of us were despatched to the Memorial Hall to act as tellers. Here, bedecked with yellow rosettes, we met our Conservative opposite numbers with their blue ones, together with two men who were there from polling companies.
The doors to the polling booths opened at 7.00am and immediately a steady stream of voters came pouring out of their cars, up the steps and into the hall. Our job was to ask them for the numbers on their polling cards. There is no competition in this and we worked together amicably with our opposite numbers, who in many cases we already knew personally, calling out the numbers for each other.
A minority of voters however were unhappy about giving us their numbers and brushed us aside more or less politely. This is understandable as it is not obvious why we want the numbers in the first place. What it does is allow both parties to tick off names on the electoral roll and see who has actually voted. Of course we have no idea HOW they have voted, but once we know that - then we can either phone or visit those who have not voted, or even offer to drive them to the polling station. In a close contest such as ours such desperate measures have to be catered for and were in fact used.
Most tellers were on duty for one hour shifts. The atmosphere was surprisingly relaxed as we all greeted people we knew or chatted together with those on the other side during the rare times when there was a break in the steady stream of voters. Clearly this was going to be a pretty high poll.
Back at the Committee Room we met together for some lunch and David dropped in to see us. Then it was back to work, sending groups out across Wincanton and Bruton to "knock up" those who had not voted or to call people on the phone. Knowing how close things had been last time tension grew as the afternoon wore on. Some got very anxious about missing out voters, but in the end we all knew nothing more could be done and as the last tellers came back at 10.00pm we packed up. Luckily here we had no problem of people being turned away before they could vote.
The final drama took place in Yeovil in the cavernous ballroom of the Westlands Social Club. Here teams of council employees were seated around a square of tables counting up the votes while over their shoulders scrutineers from the parties watched anxiously to see they made no mistakes.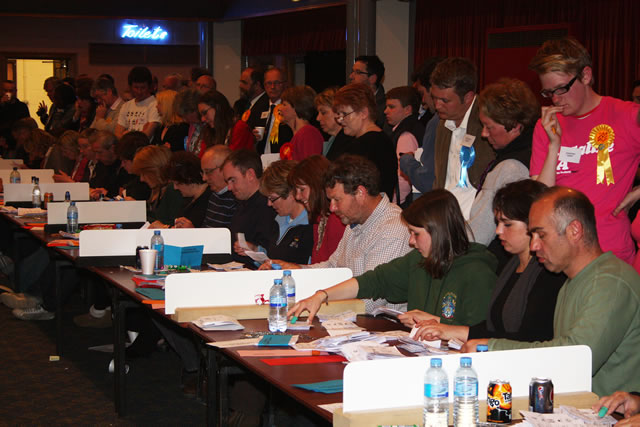 Around them moved the candidates trying not to look too anxious while journalists and photographers prowled, chatted and snapped.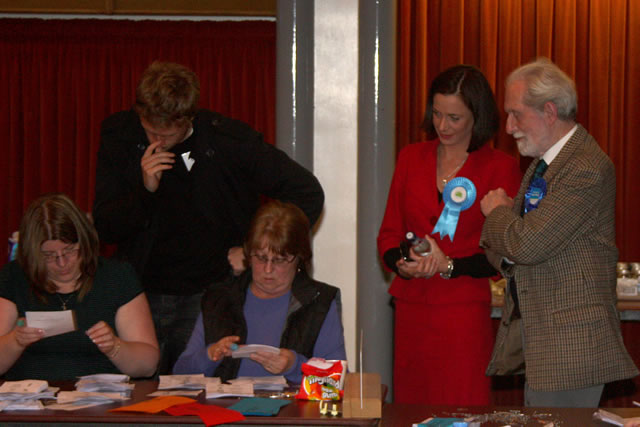 The first big event of the evening was the election for Yeovil where David Laws was returned again for the Liberal Democrats with a substantial majority of 13,036 votes.
There was then quite a long and nail-biting wait as Annunziata Rees-Mogg and David Heath watched the piles of votes being stacked in bundles of 2,000 on the central tables. It all looked pretty neck and neck as everyone tried to count what they could see.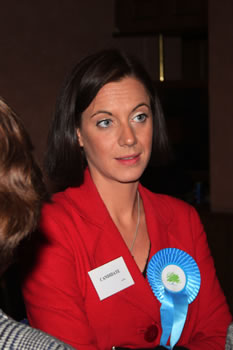 Annunziata waits as the votes are counted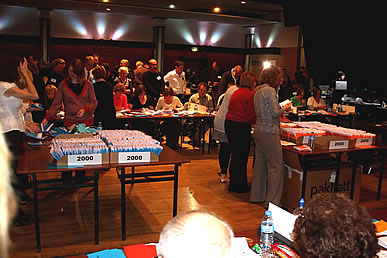 Finally, the candidates were led up onto the stage, looking rather like they were awaiting execution, and the returning officer read out the results.
Cameras flashed, TV lights were on, there was hysterical applause from supporters and short speeches of thanks made by the winner and the losers. It was all very polite and decorous and there was even humour from David Heath who said, "I had a chance this evening to make history. I had a chance and I blew it, because had I won with a three figure majority,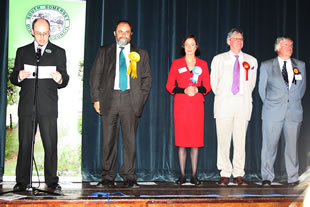 I would have been the only member of Parliament in modern times to have won four consecutive elections with majorities of three figures. I have not done that, and I apologise."
Still, while clearly relieved and delighted he also looked wiped out. As he went on to say, "It has been the most exciting, exhilarating and exhausting campaign I have ever been involved in. To see young people who have never voted before come and volunteer their services and be excited by politics - here in rural Somerset - was something that I hope will leave a lasting impression and I am absolutely delighted with what they were able to achieve."
He then went on to thank his opponents for fighting, "a proper and decent campaign. We had differences of opinion but expressed them in temperate ways and put a proper choice before the people of Somerton and Frome."
Annunziata Rees-Mogg, while obviously disappointed, was gracious in her comments. She congratulated David on his victory, thanked her helpers and said, "I was glad it was such a positive campaign and I hope David will carry on fighting for the people of Somerset as he has been doing." For the candidates it was the end of an extremely exhausting and gruelling process which has gone on for many months, and with the First Past the Post system there can only be one winner.
Exhausted, I packed up, congratulated David and spoke to those I knew. I felt a real sense of pride in being able to take a small part in this vital process of choosing who will lead us and seeing how efficiently, amicably and courteously it had all been carried out. All very British.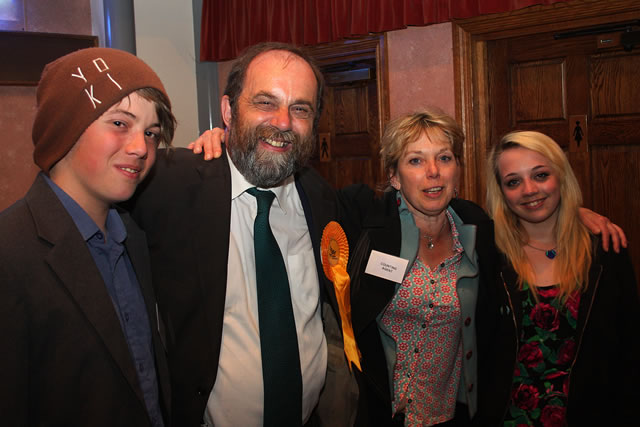 David with his family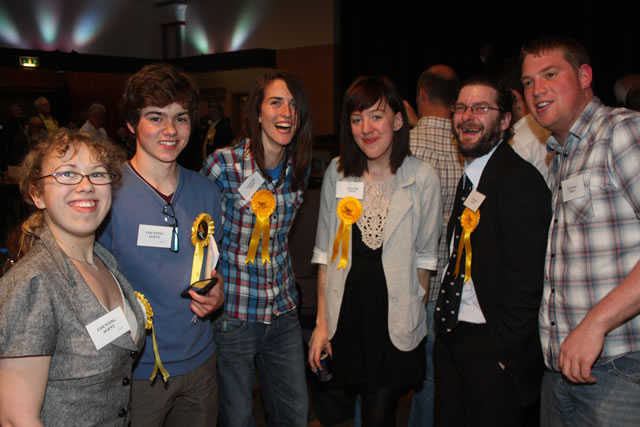 Yeovil supporters of David Laws
All the Yellow shows which side I was on. Wincanton Conservatives were asked on Election Day if they would like to contribute an article telling the story from the Blue side, but have not been able to do that yet and time moves on. This is not intended as a partisan piece, but as a record of a very special event. Anyone who wishes is encouraged to add their comments or recollections.
John Baxter