Wincanton's focused community website, providing news and information including a full calendar
News » Schools/Children » Wincanton Primary
Ofsted: Wincanton Primary is a GOOD school!
Thursday 16 April 2020, 21:42
By Wincanton Primary School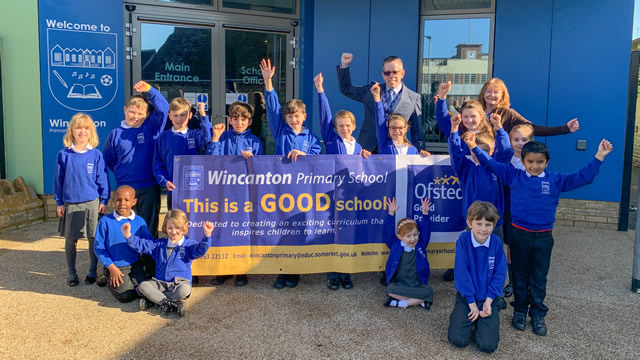 Mere days before the virus lock-down, Wincanton Primary School began celebrating following the publication of their recent Ofsted inspection that found it to be a "GOOD" school. The School is one of a few that, under the new Ofsted framework, have managed to secure the new "GOOD" standard in education that came into force at the beginning of this academic year.
The inspectors found the school to be good in all areas and commented on:
the high levels of pupil engagement,
the high levels of challenge and progress in lessons,
the extremely high levels of care and guidance demonstrated for the pupils by staff,
the behaviour and attitudes of the children,
the development of the curriculum and philosophy that underpins it,
the excellent results and significant rates of progress shown across the school over the past three years,
Personal Development as a category that was one element from being graded "OUTSTANDING"; something the school is very proud of.
"We are thrilled that the hard work and dedication the staff, children, parents and governors have shown over the past two years, since our last Ofsted, has been recognised. The achievements that have been made have been identified as a strength of the School.

"With our new extension opening just after our last inspection, it has given us the space to ensure the children are exposed to high quality experiences that build on prior learning and secure knowledge for the years to come. Pupils who required extra challenge or targeted support are given the time and space to focus on this, thus allowing progress and achievement to flourish."

- Graeme Wilson, Headteacher, Wincanton Primary School
With the new framework focussing on all subjects taught from the national curriculum, and not just the English and maths as in the old framework, the School is extremely proud of this achievement. It has worked had to ensure its pupils and community get the best education it can offer, ensuring their learning is real and comes alive.
Visits to the school are most welcome. There are Reception places still available for September 2020, so if you would like to book a place for your child, please contact the School at .
If you wish to read the report it is published on the School website: wincantonprimaryschool.co.uk.