Wincanton's focused community website, providing news and information including a full calendar
News » Schools/Children » King Arthur's
James Phillips - Off to Oxford
Tuesday 21 September 2010, 14:15
By John Baxter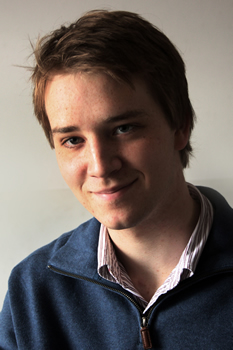 I recently wrote an article about Rebecca Fellows, a former King Arthurs student who did very well at Bristol University and is now working as a teacher on the Teach First scheme. Continuing this theme, I interviewed former KA student James Phillips.

It is two years since James left King Arthur's where he was a student for five years. Before that he was at Wincanton Primary. For his Sixth Form he attended Bishop Wordsworth's Grammar School in Salisbury, a selective maintained school for boys. This summer he completed his A levels achieving A* in Physics, Maths and Biology and to his chagrin, only A in Chemistry.

So James did well and these results earned him, together with his performance in interview and admissions tests, a place at Exeter College Oxford to read Physiological Sciences. As the media have been quick to remind us, places at our top universities are very hard to get, and when it comes to Oxford and Cambridge even more so, so James deserves to be congratulated on what he was able to achieve by the age of eighteen.

Obviously he is bright, but I was keen to interview him for the Window for the path he has followed through the maintained school system is something King Arthur's can take real pride in. What is more I feel our concern for the average and less able should not mean we overlook the more able or imagine they can simply get on with it and look after themselves.

This means we should also celebrate the dedication of the teachers who make high achievement in school possible. Teaching is a great profession, but to work in a maintained school, be it primary or secondary, is often tough. Class sizes are much bigger than in private schools and sadly not all parents are supportive. A significant number of students also bring with them all sorts of issues, so to see what students like James can achieve is inspiring. I have also found interviewing him and exploring his views and opinions really interesting. Some may find them a bit controversial!

First James was keen to say that he thought that under the leadership of Ms Tamra Bradbury KA had become much readier to promote and encourage achievement in the basic academic subjects. Before she came he felt the emphasis on sports at times seemed to overshadow and undervalue what was done in Maths, Science, English and other subjects such as Music.

He also thought that under Ms Bradbury the school had become a much happier, more enthusiastic and motivated place (He has two younger siblings who have recently attended the school). He spoke with affection of the work of several of his teachers, in particular his English teacher who had awakened him to the joys of reading good novels, and a humanities teacher who was very supportive throughout his time at KA.

I asked what sort of pupil he had been and he said he thought he had often been pretty difficult and that several of his teachers might be surprised to learn that he had got a place at Oxford. He thought the problem was that sometimes he had played up because he had got bored in classes where the teacher had to go along at the pace of those who found the work hardest. While this may sound 'elitist' on the surface, it does appear to reflect the experiences of many students.

Speaking personally he said he would have liked to have been taught in sets with those of similar ability. He did however recognise that the goal of this mixing was to encourage students of different academic abilities to share ideas. The problem was he felt that it was not so beneficial for the brightest. He felt he could not ask too many questions or go beyond the syllabus for if he did he could be picked on for being a "geek". This meant he thought he found himself adopting a persona that was not him in order to fit in. Still, despite these criticisms - which he felt also reflected the experience of some others who he thought pretty bright - he clearly learnt enough to do very well.

I then asked him about his time at Bishop Wordsworth's school. Entering the sixth form there had allowed him to access a different world. Suddenly he no longer felt something of an outsider, but was able to mix with other boys who shared his interests, were fascinated by what they were studying and who competed with each other to excel. There were also what he described as "lots of extra-curricular academic activities". He loved playing chess, was involved in computer programming, continued to read and discuss novels and was a very active member in the school debating society competing against other schools. This culminated in reaching the Grand Final of the National Schools Debating Competition. He found much of the teaching at Bishop Wordsworth's inspiring and also felt he received very good advice about how to prepare and apply for a place at University and which subjects he should seek to study there.

So James comes across as someone with the potential to become a serious scientist, the sort of person whose skills could make a significant contribution in the career he chooses. As he says he just finds science subjects and maths understandable and fascinating. He is though the first to admit he could not have done what he has on his own. Without sound teaching both at the primary level and at King Arthur's, the outcome for him could have been very different. He is also quick to say that without the example and quiet support of his parents and their unspoken expectation that he would do his best - his father is a GP and his mother a nurse - he doubts he would have developed the habits of focused work and study which are needed if natural ability is to result in achievement.

James is unusual in having developed such an interest in Neuroscience at a young age. He confessed to devouring a textbook on Neuroscience when he was fifteen! Part of his interest involves examining to what extent we come pre-programmed and hard-wired to excel in some things and not in others and to what extent our development is a consequence of factors such as teaching, culture, parental example and support. From his reading (and of course experience) he told me that there is clear and very substantial evidence of innate talent and genetic predisposition to particular abilities existing in individuals, and that this conclusion of science is too often ignored in the interests of political correctness. This is clearly nothing like fully understood yet but as the science progresses schools will need to be much more flexible in what they offer and teachers more open and imaginative. He thinks the basic curriculum needs to be less prescriptive in order to provide far wider choices to meet the different needs and abilities of students. This of course presents education with quite a challenge and raises many questions about schools, teaching and learning. What will he think in three years I wonder?