Wincanton's focused community website, providing news and information including a full calendar
Headlines » Neighbourhood » Roadworks
New Mini-Roundabout at the Bottom of South Street
Monday 15 April 2013, 15:24
By John Smith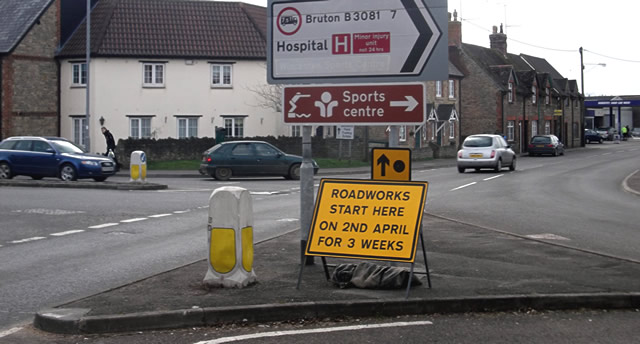 Road works are being conducted on the B3081 at the junction of Southgate Road, South Street, Station Road, and Moor Lane, Wincanton.
Being the main road in and out of Wincanton this has the potential to cause upset in our local economy. Life for our business community is already very tough, but luckily there is no sign of road closures or diversions being put in place yet.
I checked the road works page on the Somerset County Council website to find answers to the follow questions.
When? The road works were due to commence on 2nd April lasting for three weeks. However the sign was altered manually to show a revised starting date of 8th April. At the time of writing (9th April) the road is still not closed, but works have now started. The contractors started by ripping out the island shown centre left on the image (entrance/exit of Moor Lane).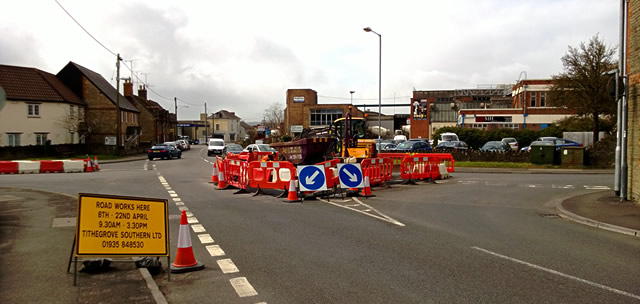 Why? This is a bit of a mystery. According to County's records, it would seem that this junction with its triangle, and island (Moor Lane side) are not up to scratch. It has therefore been decided that this junction is deserving of a new "mini-roundabout".
Having chatted with several local residents there doesn't seem to be any knowledge of any major traffic accidents/incidents at this junction that would require such drastic action. However County have advised that this roundabout is the result of a Section 106 agreement relating to the current Key Stage development on the New Barns estate.
Section 106 Agreements were instituted so that developers provide a financial contribution towards community facilities when building large residential developments. This helps to avoid massive developments without sensible facilities. At least, that's the plan.
The question here is what has a section 106 Agreement relating to the New Barns site got to do with a junction that is nowhere near the site itself? To this end I contacted County and Abbey Manor Developments asking for clarification. Keep an eye on this article for any updates.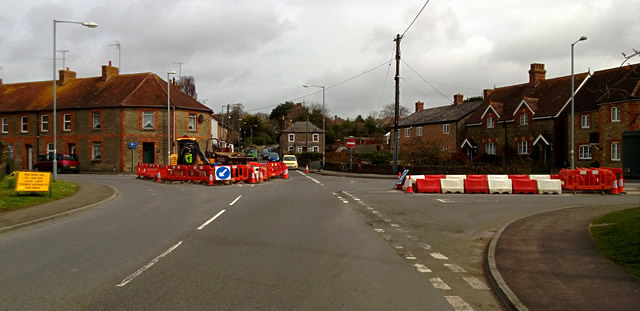 How much? The cost of work like this is always important to ensure best value for this sort of investment. Nobody wants to see money being wasted when it could be put to better use.
County advised that the cost of this work is "bonded" at £36,330. Maybe someone can tell us what that means.
If you can help shed more light on any of this please let us know.