Wincanton's focused community website, providing news and information including a full calendar
News » Politics » Liberal Democrats
The National Crime-Mapping Website "Dispels Some Illusions"
Thursday 17 February 2011, 20:04
By David Heath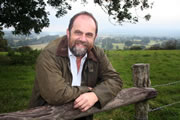 What is the most popular government website ever, with over eighteen million hits an hour in its first couple of days of operation? In fact, so many hits that it promptly crashed, causing frustration all round, not least for journalists trying to write their local news stories? Step forward the new crime mapping site set up by the Home Office to give people detailed information about the crimes reported in their local area, right down to street level, and an indication whether their experience is average compared with the rest of the country.
There have been a few grumbles, of course. There always is. Some think that providing information of this kind is going to cause their house prices to plummet. Others complain that, because the information isn't specific to a given address (for obvious reasons), but rather to a vague position in or near a street, then it is misleading. If you go on the site for Westminster, for instance, you will find that not a single crime was committed in the Palace of Westminster (oh yes there was, you cry) or in Parliament Square, but rather a lot immediately outside Cannon Row police station just round the corner, which is counter-intuitive to say the least.
But generally speaking, I think the new information base is helpful. It dispels some illusions, for instance, in rural areas by revealing just how low crime rates actually are and how lucky we are to live in an area which is overwhelmingly safe. It enables us to judge how effective the police are being. And it enables us to know whether there is a particular cause for concern which a specific type of crime, which ought to affect the response.
Like everybody else, the first thing I did was look at my own village statistics for December. If I say it was disappointing, it is only in sense of anti-climax, in that not a single crime of any kind was reported in December. Maybe that for half the month you couldn't get in or out of the village because of snow and ice had something to do with it. I then looked at some of the other areas of the constituency. Somerton, for instance, had seventeen incidents of anti-social behaviour, two burglaries, five "violent" crimes (a little misleading as the category includes not only assault but swearing in the street and similar outbursts), and seven "other" crimes, which might include criminal damage, shoplifting or drugs offences. There were no incidents of robbery or vehicle crime. That amounts to 0.65 crimes per thousand population, which is average for the country.
And that's just about the norm for other towns. Bruton had two burglaries and two vehicle crimes, but only twelve reported crimes overall, which makes it a lower rate of 0.35 crimes per thousand population. Castle Cary is about the same, as is Wincanton. Langport is a bit higher, at 0.73, and Milborne Port, with just eight reported crimes, comes out at 0.26 crimes per thousand, which is below the national average. Which is what you might expect. In my constituency, it is only parts of Frome which have incidents of crime above the average, and then not by a great deal.
As it happens, on Saturday afternoon I visited a parish council who were concerned about the number of anti-social behaviour incidents in their village. The district commander, Chief Superintendent Nikki Watson, came as well. I looked on the site, to find that only one crime had been reported in the village in December. That is not to belittle their concerns; clearly they were troubled by the activities, as is often the case, of a very small number of local youngsters. But it does underline the need for people actually to report crimes. If the worry is reprisals, they can do so anonymously using the Crimestoppers number. But if they don't report what they see, it's very difficult for the police to know what's going on, to assemble evidence, and to take action, which is what people want.
David Heath, MP