Wincanton's focused community website, providing news and information including a full calendar
News » Crime/Police
Nasty Vandalism and a Really Vicious Crime
Tuesday 23 August 2011, 11:15
By John Baxter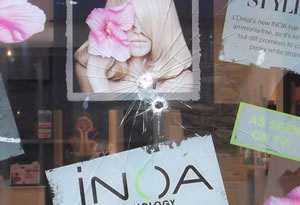 It is now just two months since we reported the damage done to two businesses that have had their windows broken repeatedly.
On Friday it happened to Maxine Davis for the fifth time. While on holiday in Cornwall the windows of her salon were smashed. A month previously she had repaired her badly cracked windows at very considerable expense and two weeks later, when her car was left parked in the drive of her home in Mere, it was doused in petrol and set alight. The smashing again of her windows adds up to only one conclusion. This is not casual. This is escalating, planned malevolence.
As PC Andrew Brown said, "These are appalling crimes and a shocking attack on a hardworking person running her business. We take these incidents extremely seriously and are doing all we can to bring whoever is behind them to justice. If anyone has any information about who carried out these crimes, we ask them to let us know as soon as possible."
I am sure everyone in Wincanton is equally appalled at such calculated viciousness. Maxine has had her windows patched up and is open for business. She is determined not to let these events get her down, and fully deserves our support.
It does not end there though. When her car was set alight she had three of her daughters with her and if she had parked in her car port the whole house could have gone up in flames with all of them in it. Now her youngest daughter who is in her early teens is terrified to be left alone in the house and accompanies her mother to the salon for they all feel they are being watched.
Again anyone who has any information that could lead to the arrest of whoever is behind these crimes should telephone Wincanton police on 0845 456700 or Crimestoppers anonymously on 0800 555111.