Your source for Wincanton's latest news, views and information, covering Wincanton and surrounding towns and villages
Headlines » Community » Obituaries
Malcolm MacCormack – an Inspiration Who Will Be Sorely Missed
Friday 26 February 2016, 12:34
By John Smith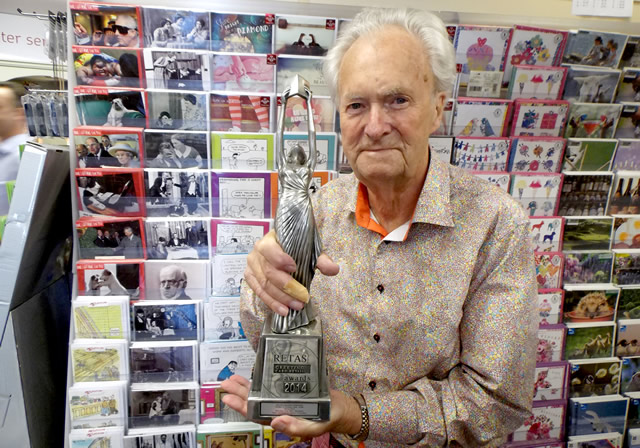 Wincanton is mourning the passing of Malcolm MacCormack. Malcolm died on 26th January after a long battle with cancer. National and local politicians are among those who have paid tribute to a man who was a true humanitarian as well as a popular member of the local business community.
Malcolm moved to Wincanton more than 35 years ago to take up the position of sub-postmaster at Wincanton Post Office . He worked hard in that role until 1982 when he handed the reins over to his son Nigel.
He may have handed control to Nigel, but until his passing the Post Office still played a major role in his day-to-day life. The family's hard work was recognised recently when it was upgraded from sub to main Post Office. Even in retirement Malcolm was still doing his bit to keep the wheels of business moving. Regular visitors to the Post Office would see both Malcolm his and wife Ann walking the floor, involved in the daily work.
As well as being a loving father, grandfather and great grandfather, Malcolm will be well remembered by many Wincanton residents for his humanity, compassion and generosity. In particular, more than 20 years ago he headed a mercy mission to war-torn Bosnia to bring refugees to the safety of Wincanton. This selfless act attracted much attention in the national media and he was awarded the MBE.
Only recently, in September 2015, ITV interviewed Malcolm to get his thoughts about the current refugee crisis. His views have clearly remained constant, believing that if all communities took responsibility for a few families, the crisis would be eased.
Despite his on-going battle against cancer, he always had a positive outlook, displaying great fortitude. He played the seriousness of the illness down, and got on with the work of the day, always on-hand with a smile for visitors to the Post Office. He will be missed, and fondly remembered by many.
Malcom gained much respect from prominent people beyond the town boundaries. David Heath CBE, the former MP for Somerton and Frome said:
"I'm so sorry to hear about Malcolm's death. I knew him and worked with him over many years, and whether it was battling to save small post offices or understanding the plight of others less fortunate than we are in this country, Malcolm always showed his clear-sightedness, good sense and preparedness to act on his principles. He will be greatly missed, and not just in Wincanton."

- David Heath CBE
Lord (Paddy) Ashdown, the former MP for Yeovil, a diplomat and former soldier, who was International High Representative for Bosnia and Herzegovina from May 2002 to May 2006, paid a heartfelt tribute to Malcolm.
"Jane and I were so sad and shocked to hear the dreadful news about Malcolm. Our thoughts, prayers and condolences go out to all his friends and family.

"He was a remarkable man for many reasons. He loved Wincanton and his community. But, in a way which should be a model for us all, he also loved his fellow human beings. He had not just a rare ability to put himself in their shoes and share their suffering, but also a remarkable capacity for reaching out and helping them in their time of need. In so doing - and in drawing us in to make our contribution - he ennobled us all. He certainly had a huge effect on me.

In this, as in so much else he was an inspiration - especially in these times when compassion for others and selflessness seems all too rare a quality. He will be sorely missed."

- Lord Ashdown