Wincanton's focused community website, providing news and information including a full calendar
News » Nature » C.A.T.C.H.
Just Dance just raised £300 for C.A.T.C.H!
Monday 11 June 2018, 17:24
By Emma O'Brien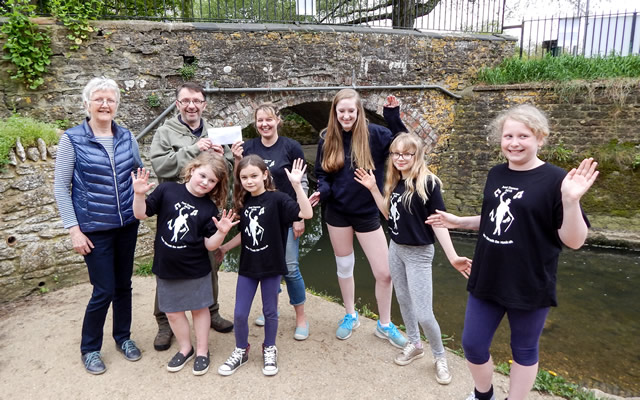 Members of Just Dance, a dance class studio in Wincanton, recently presented C.A.T.C.H. (Community Action to Transform the Cale Habitat) with a cheque for £300!
We held our bi-annual show, Dance Through the Musicals, at the beginning of May at King Arthur's School. There were dances in ballet, Irish, tap, acro and street dance. Nearly all the children and adults that come to classes at Just Dance took part, and performed wonderfully.
We asked local businesses to contribute to a raffle and had a fantastic response. I wanted to choose something in the community for all the proceeds to go to, something that all the children could benefit from, and settled on C.A.T.C.H.
They were pleased when I asked them if that was ok, and thrilled to receive £300 from the raffle, which was more than I could have hoped for. We met down by the river with a few dancers to hand over the money.
I opened Just Dance five years ago at the bottom of Church Street, after many years of hiring rooms, and it has continued to expand and grow, adding new classes all the time.