Wincanton's focused community website, providing news and information including a full calendar
Headlines » Schools/Children » Our Lady of Mt Carmel
Jerome McCormack, Head Teacher of Our Lady of Mount Carmel
Thursday 1 January 1970, 01:00
By Jerome McCormack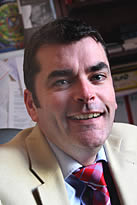 It is a great honour to be the Headteacher of this school. My ambition is for Our Lady of Mount Carmel Catholic School to continue to be a high quality vibrant primary school enabling all the students to enjoy their learning and flourish in whatever activities they undertake. I know this will happen best when they feel fully supported, which is a special strength of this school.
We have high expectations of all students, in their conduct, behaviour and achievement and this underpins our positive school ethos. We expect students to not only strive to achieve excellence but also to be able to reflect upon their efforts working with their teachers and support staff.
The huge and unswerving commitment of all the staff at this school and the tremendous support we receive from our parents, parish and the wider community are essential elements of our success.
To learn more about our school click onto our website: www.ourladyofmtcarmel.ik.org
Jerome McCormack