Wincanton's focused community website, providing news and information including a full calendar
News » Crime/Police » Police
Jenny Maynard, PCSO (Police Community Support Officer)
Thursday 1 January 1970, 01:00
By Jenny Maynard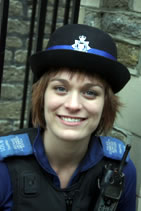 My name is Jenny Maynard and I am the Police Community Support officer for Wincanton. I have worked here as a PCSO for about two and a half years now, and I feel it is a privilege to come to work in such a beautiful setting. Over this time I have got to know many people and feel I have gained many positive relationships within the community. I have also had to face up to new challenges while on duty and think I have learnt a lot about how to deal with them.
My role involves various aspects of community life, such as liaising closely with the schools, both primary and secondary and with community groups, such as the Linx Project , the Community Church Youth Group and Catholic Church Youth Group. Of course people appreciate seeing us on the street, so we have "high visibility patrols" in the town, particularly at times when they are needed such as school arriving and leaving times and evening patrols. Then there is our work on Crime Prevention. This involves raising awareness on home and vehicle security. I also talk to elderly residents about the risk of Distraction Burglaries, and the simple steps that they can take to prevent themselves being targeted.
We are constantly on the look out for Anti-social Behaviour in the town, and we work with the Community Justice Panel to resolve certain incidents that occur. The Community Justice Panel was set up in response to local concerns about anti-social behaviour and the perception of low police numbers. The restorative justice that they run, works to resolve conflict and repair harm. It encourages those who have caused harm to acknowledge the impact of what they have done and gives them an opportunity to make reparation.
When it comes to emergencies we are often called out to assist at road traffic accidents and to control the traffic so the other emergency services can do their work at the scene of an accident. I am also involved in investigations such being sent to carry out house to house enquires, contacting victims and looking at the CCTV footage of community based crimes.
Currently I am running a Right Track Training Course. The course has been designed to help young riders become more aware of their surroundings and how to behave when using the public highway on their bicycle. This is for children aged between 10-11 years at Wincanton Primary School. It seems to be going down very well, for not only are the children really enjoying themselves, but the sort of skills they are learning could save their lives in the future.
The Neighbourhood Policing Team at Wincanton has a policy of trying to run a course at each of the town's Primary Schools every year and I try to give as many children as possible the opportunity to take part. I also work closely with King Arthur's Secondary School, by liaising with teachers and parents. It enables me to get to know the pupils in an educational environment and to try a have a positive influence on their learning and their attitudes.
As a PCSO I do not cover the late night economy (after 12pm), but do carry out evening patrols around the Town and surrounding areas. Due to Wincanton being a 'Non Drinking Zone' I am able to issue Fixed Penalty Fines to anyone drinking in the area causing a problem. Also if I find anyone acting in an anti-social manor around Wincanton, I am able to issue an £80 Fixed Penalty Notice for Disorder. But as with anything, I am only able to deal with incidents if I know about them, so I do stress, please, please report issues that are effecting you in your community, and I will endeavour to deal with them.
Wincanton's Neighbourhood team holds a weekly Beat Surgery at Morrison's Café, Southgate Road, Wincanton, every Friday, from 1430-1530. The Beat Surgery is for anyone that wishes to raise any issues, or just pass on any information to us. Please come along!
The next Wincanton PACT Meeting has been organised for Monday 4th January 09 at 7pm in the Area East Meeting Room, The Council Offices, Churchfields, Wincanton. Please see the PACT Walkabout page for the latest updates.
Please don't hesitate to contact me if you have any queries. I can be contacted at Wincanton Police Station, or on 0845 4567000.
Jenny Maynard