Wincanton's focused community website, providing news and information including a full calendar
News » Community
Friends of Wincanton Community Hospital Win Service in the Community Award
Wednesday 12 February 2014, 13:32
By Gill D'Arcy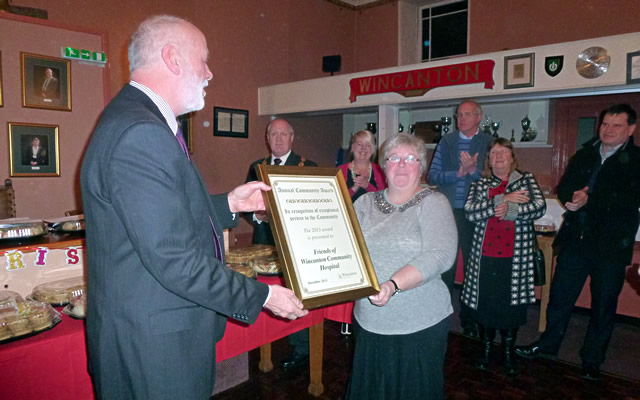 6th December 2013 was a very special day in many ways. It was my daughter's birthday, the Wincanton Extravaganza evening and the day that the Friends of Wincanton Community Hospital collected the first Mayor's award for Service in the Community.
This was the first time this award has been presented and Mo Mahoney (chairman of the Friends) and Matron Claire Andrews collected this award on behalf of the friends and all associated with the Wincanton Community Hospital.
A civic reception was held in the Town Hall on Friday 6th December, where there were lots of invited persons present. The food and drink provided were exceptional and enjoyed by all who attended.
The Mayor's speech included so many things it is hard to get it all down but here are a few strong quotes from it.
"It is with great pride I welcome you all to Wincanton Town Councils Civic Award Ceremony at the Town Hall. Community Politics, as it likes to be called, comes in many forms of like-minded people coming together such as groups, organisations and volunteers.

"I have always been an advocate of community endeavours and my beliefs stem from the writings of Henry Morris in an ethos of working together from cradle to grave. There can be no better example of this in Wincanton than in our friends, The Friends of Wincanton Community Hospital.

"We the Town Council had no hesitation whatsoever that the first award of this new initiative should go the them with clear acknowledgement and thanks, which I believe is the greatest accolade of a community thank you."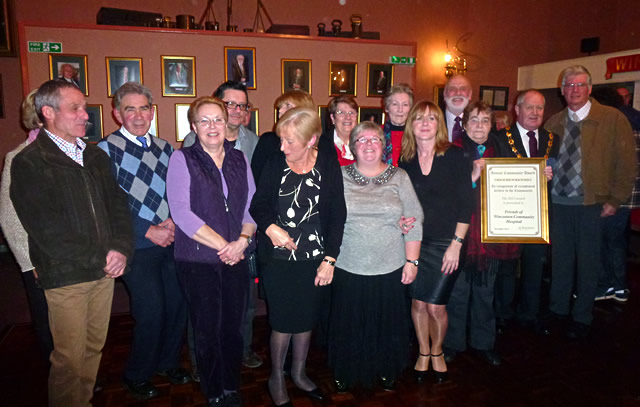 "Over the years the Friends have raised vast sums of money by holding Fetes, Race Days, Dances, Garden Parties, donations and legacies. Recently they, with the community, have raised £270,000 towards the new X-ray and scanner equipment now in the hospital, along with lots of other equipment including a retinopathy machine for diabetic eye tests.

"They also provided daily newspapers, and gifts for the patients at Christmas, decorating and refurbishing wards and day rooms and helping in whatever way they can in the day-to-day running of the hospital.

"If you would like to total this all up it would come to somewhere in the region of £1, 250,000. What an achievement that is. My words cannot justify their achievements and the Town Council and people of Wincanton would like to thank you and present you with an acknowledgment of their accomplishments. Remember we are one town, one community."
The award was then presented to Claire and Mo.
The Matron, Claire Andrews, gave a short speech of thanks on behalf of the hospital and Friends. Afterwards photos were taken of the Friends, together with the award.