Your source for Wincanton's latest news, views and information, covering Wincanton and surrounding towns and villages
Headlines » Community » Obituaries
Fenton Rutter Remembered
Tuesday 26 August 2014, 17:37
By Derek Hudson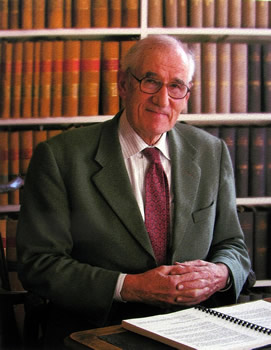 Fenton Rutter, the well known retired Wincanton solicitor, died recently at the age of 92.
Fenton was the fifth generation of Rutters to enter the family business of Rutter and Rutter, Solicitors in Wincanton. His son, Charles, now runs the office.
Education
Fenton was educated at Millfield School, where he excelled in several sports, including long distance running, tennis and squash. From there, he went to Jesus College, Cambridge, where he obtained a law degree. He won a Blue from Cambridge for athletics in the annual Oxford and Cambridge competition.
The outbreak of World War Two
He was half way to becoming a fully qualified solicitor when World War Two broke out. He enlisted in the Royal Navy and was immediately recognised as potential officer material. After training, he was appointed a second lieutenant in the Royal Navy.
D-Day landings
His first action under enemy fire came on D-day, when as a first lieutenant at the age of 24 he was appointed to command a flotilla of 12 landing craft. His flotilla was assigned to support American troops after they had landed on Omaha Beach, and to ferry vital equipment from the large naval ships stationed offshore. Both the landing craft and the Americans faced fire at point blank range from the German gun emplacements at the top of the steep hill that the Americans had been ordered to climb and take. The firing was so intense that a high proportion of the first wave of soldiers ashore was killed immediately.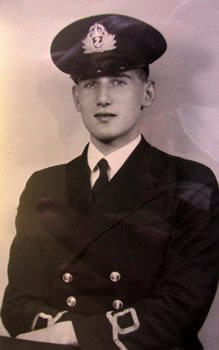 Subsequent waves of soldiers used the bodies of their fallen comrades as minimal shields to offer them some protection from the continuous German fire. The fierce German bombardment also sank 5 of the 12 landing craft in Fenton's flotilla. In spite of this continuous fire, Fenton made more than one round trip between his parent ship and Omaha beach, in order to bring much need additional supplies to the landing site.
After D-day, Fenton advanced inland with British land forces, past a small French village called Arromanches-les-Bains. This village played a key role immediately after D-day. Two floating "Mulberry" harbours were floated across the Channel, and then anchored off the Arromanches beach. A huge quantity of military materiel was landed in two days, before the Mulberry harbours were destroyed in a gale.
Fenton was often asked to write up his D-day experiences. He replied that doing so would bring back painful memories of his many friends who had died, and for whom he was still grieving. Fenton was subsequently honoured by the mayor of Arromanches with the Freedom of the Town. He always visited Arromanches and its nearby cemeteries on D-day anniversaries.
The War continued in Asia
After VE-day, the war continued in the Far East. Fenton was transferred to Singapore. Later, Fenton was personally thanked by Lord Louis Mountbatten, Commander in Chief of British Forces in the Far East, for his contribution to the war effort. This consisted of mounting a powerful short wave radio transmitter in his landing craft in Singapore harbour. The radio was used by the defeated British commanding officer to keep in contact with Whitehall, after Singapore had been over-run by the Japanese.
The start of Fenton's legal career
When victory was secured against Japan, Fenton was demobilised and returned to England.
He then enrolled in a London law school and emerged as a fully qualified solicitor, joining the firm of Rutter and Rutter in Wincanton in 1951.
Although he was an all-round attorney, he spent a good deal of his professional life as a defence solicitor. He was appointed to the part-time position of Coroner for Somerset by the Lord Lieutenant of Somerset, acting on behalf of Her Majesty Queen Elizabeth. As Coroner, Fenton's job was to hold inquests into unnatural deaths, and to make any recommendations which he thought were in the public interest.
He once held such an inquest into a fatal road accident to the east of Castle Cary. He determined that the cause of the accident was the alignment of the A359 road from Bruton to Yeovil where it crossed the A371 from Castle Cary to Wincanton. Fenton recommended that this crossroads should be redesigned, and turned into a 'staggered junction'. This design change was duly carried out and remains in place to this day.
In keeping with the traditions of the legal profession, Fenton carried out many legal assignments pro bono for clients who could not afford the standard legal fee.
Fenton's many social activities
Shortly after the war, Fenton met Norah Walker; they married and recently celebrated their 66th wedding anniversary, a fact of which both Norah and Fenton were justifiably proud.
Fenton's sporting and social activities in and around Wincanton were many and varied. He played a high standard of tennis, and squash at county level. When he reached the age at which British squash players are defined as veterans, he represented Great Britain in a veterans' international squash tournament in France, and won the event for Britain. He also continued to compete in distance running events until his late fifties.
As a newly appointed Governor of the co-educational Sidcot Quaker School in Somerset, he noticed that the school did not have a squash court. A few weeks after contacting friends and colleagues he had raised sufficient money to pay for a squash court to be built at the school.
Fenton was a member of the Wincanton Silver Band, where he played the cornet. On one occasion, this band gave a public performance on the lawn outside the offices of Rutter and Rutter and was conducted by the illustrious conductor Sir Arthur Bliss.
When Fenton found that he was getting too old to play squash or to play in the band, he took up bridge as a substitute 'sport'. He quickly became a very competent bridge player, and was soon promoted to the rank of Life Master. Among his many bridge partners was Michael Millican, whom he partnered for 19 years and another was Ruth Fisher; with both he won many competitions.
When Fenton's physical health began to decline in mid 2014, his mind remained active. He used a wheelchair to enable him to continue to play competitive bridge until two weeks before he died. He won the last four bridge competitions he played in at the Shaftesbury Bridge Club, where his name appeared on their honours board as their best Gentleman Player.