Wincanton's focused community website, providing news and information including a full calendar
News » Politics » Conservatives
David Warburton Takes Local Issues to Conservative Party Conference
Tuesday 1 October 2013, 00:02
By Harriet Warburton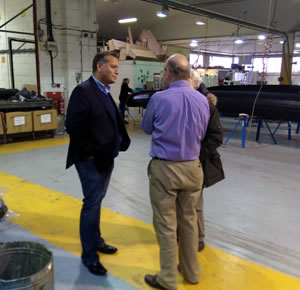 David Warburton talking to Chris Hornidge, MD of
Henshaw Inflatables, with District Cllr Colin Winder.
David Warburton, the prospective Conservative Member of Parliament for Somerton and Frome, joined the Conservative Party Conference last weekend, armed with the opinions of local businesses, charities and residents about how best Somerset can grow and prosper.
Since being selected in February this year, David has met a multitude of local businesses across the constituency. Last week, David toured businesses in Wincanton, including local success stories Rochford Garden Machinery, N.H. Case Frozen Foods and Henshaw Inflatables.
David also visited Evercreech Junction Industrial Estate to hear about renewable energy company Tamar Energy's plans for a new Anaerobic Digestion facility at the site, and to tour the workshop of fast-expanding table-top games manufacturer Spartan Games. He also met businesses in Lovington, including growing family brewery the Cottage Brewing Co.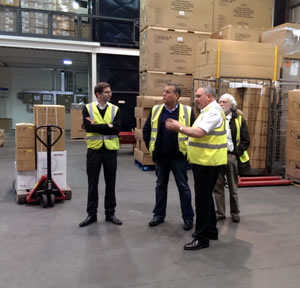 David Warburton with Mark Rochford and
Stewart Anderson MD of Rochford Garden Machinery
and District Cllr Colin Winder.
In addition to meeting with business owners, David has been getting to the heart of local charities. David has raised money for Frome-based hydrotherapy and specialist sensory centre Harry's Hydro Appeal, has met with Active and in Touch Frome, and spent the day with leading Down's Syndrome support charity, Ups and Downs, which he is to join as a Trustee. Having visited Riding for the Disabled in Henstridge, David is to participate in a voluntary working day with them, as part of his "Warburton Works" scheme to get to know local business and charities.
David is also continuing his successful series of "Meet David Warburton" evenings. These are informal gatherings in local pubs, where residents and business-owners are invited to join David over a pint, to discuss their issues, ideas and concerns. "Meet David Warburton" evenings have taken place so far at the Bell Inn at Leigh-on-Mendip, The White Hart in Somerton and The George Hotel in Castle Cary. The next one will take place at 7.00pm on 9th October at the Archangel in Frome. All are welcome to come along and talk to David.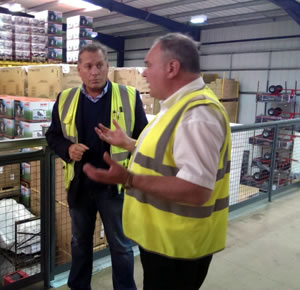 David Warburton with Stewart Anderson,
MD of Rochford Garden Machinery.
Last week David commented,
"As parliamentary candidate, a vital part of my job is to talk to and understand the concerns of local people, identify areas in need of help and support, and bring these issues to government in order to bring about positive changes. I will take all I have learnt to the Party Conference in Manchester this weekend to discuss with those at the very heart of government.

"Getting to know local people, experiencing their day-to-day working lives and listening to their issues and concerns is the only way to get the right things done for them effectively."
David, who was chosen to represent Somerton and Frome by hundreds of local Conservative members, lives in Mendip with his wife Harriet and their two children. He trained as a classical composer and taught at an inner-city secondary school before going on to a successful business career.
To follow David's campaigns for Somerton and Frome Conservatives go to http://www.davidwarburton.org.uk, find him on Facebook and Twitter @DJWarburton.