Wincanton's focused community website, providing news and information including a full calendar
News » Politics » Liberal Democrats
David Rendel, LibDem Parliamentary Candidate, Campaigns in Wincanton
Thursday 20 November 2014, 00:50
By John Burrough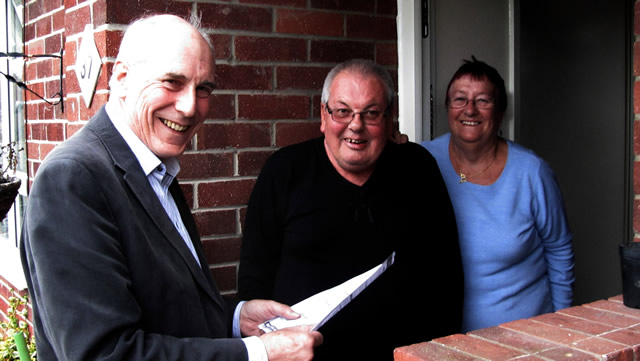 David Rendel, Liberal Democrat parliamentary candidate, seen here with Sheila and Mark Savage of Mundays Mead, has recently been in Wincanton knocking on doors and leading his team in carrying out a residents' survey. His aim is to go all over the constituency and meet as many people as possible, listen to them and make sure they have a chance to have their say. They do this by completing this survey which the team collect half an hour later.
On being asked, "And what is the point of that?" he replied,
"At this time of so much political uncertainty and disillusion, I feel the right place to start my drive to succeed David Heath as MP for Somerton and Frome is to get out and listen to what ordinary people have to say and that's what I'm spending my time doing."
Does David think the Residents Survey can help him do that?
"Yes I do. My day in Wincanton handing out the surveys and often talking to people on their doorsteps gave me a real feel for the town. I thoroughly enjoyed it."
So they didn't shut the door in his face?

"No! The people of Somerset are much too friendly for that. Several people commented on how it made a refreshing change to find politicians who were prepared to get out on the doorsteps and really listen to what residents think about the issues which matter most to them. We get hundreds of survey forms filled in and returned to us every day, and the answers people give are very interesting."
Like how?
"Well, our survey, unlike some, is truly open so you can say what you think. But we did ask five questions about key Lib Dem Manifesto Pledges of 2010 which have all now been put into action. These were to raise the tax threshold to £10,000, more money for schools to help disadvantaged children get a fair start, guaranteed pension increases, thousands more apprenticeships and reducing environmental damage caused by energy waste."
And the response he got?
"Overwhelmingly, whatever political preference people showed, they approved of these policies. So please, if I or one of our team comes to your door, let us know what you think. This is your chance to make your voice heard."