Wincanton's focused community website, providing news and information including a full calendar
News » Politics » Liberal Democrats
David Heath MP Talks About Local Flooding
Tuesday 26 October 2010, 12:06
By David Heath
[David Heath MP writing for the Western Gazette on Thursday 14th October 2010]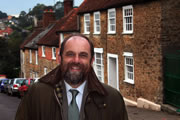 A couple of weeks ago I wrote about some pretty significant openings in the Langport area of my constituency which I had attended; the new sixth form building at Huish Episcopi, the extension to the doctor's surgery at Langport, the new community classroom at High Ham. Last week I went to the official opening of a rather smaller construction, in West Camel. Not to put too fine a point on it, it was a small shed. But it represents not only a lot of work by local people, and not a little imagination on the part of local authorities and other public bodies, it will also mean a lot to individual members of the community if they find themselves again in the position many of us did the winter before last; in the middle of a flood.
I feel quite passionate about this as a result of bitter personal experience. Arriving home in the early hours, my car got caught in a flash flood under the railway bridge in my own village and I and my daughter ended up having to scramble to safety out of the car windows and wading through chest deep water to reach relatively dry land. That's the last I saw of that car. In the Queen Camel and West Camel area they had even bigger problems, not least the flooding, yet again, of Countess Gytha school. But it did spark a lot of interest in what the communities could do to help themselves if the same thing happened again, and a lot of work has been going on since to help with flood mitigation. It also caused the then county council to see if it could get funding from the government for some innovative schemes, and in the end, thanks to some persuasive work by the then responsible councillors Henry Hobhouse and Sam Crabb, Somerset was the only authority to be given a small grant. Well done to them and, although I won't often say this, well done to the previous government.
Part of the result is a series of sheds in areas where flooding may recur, stocked with road closure signs, wellies, reflective jackets and other necessities, so that volunteers can react quickly to an emergency and actually do something about it rather than passively waiting for the emergency services, by closing roads affected by flooding and preventing anyone driving unsuspecting into flood water. The first one is at the village hall in West Camel, outside the flooding area (it's on a hill!), and the local Police Community Support Officer Thelma Mead has done a brilliant job in recruiting volunteers and working with the local parish council to make the equipment available. I understand there are going to be similar facilities in Frome and other places around the county.
As I said on Friday, there seemed an awful lot of people there for one small shed. But as much as what has been provided, it's the principle; that actually, communities are quite good at helping themselves in adversity if they are given the chance to do so. It doesn't always have to be done by an outside agency. The same applies to the bright yellow bins that have appeared on the steep hill leading into Witham Friary, my own village. They've been provided by the parish council in conjunction with the county council who have provided the grit and salt mixture (apparently with a further dash of molasses) to fill them. It means that if we have another freeze next winter, maybe we won't get cut off for weeks because the hill is frozen and we aren't a priority for the gritters. We can do it ourselves.
I'm very often critical of the current county council, and I no doubt will be again. But on this occasion, I think they're doing the right thing, and what's more doing it at the right time, before there's an emergency. I hope many more villages take up the same sort of ideas.