Wincanton's focused community website, providing news and information including a full calendar
Headlines » Community » Library
Crime Novelist Lyndon Stacey Gives Talk in Wincanton Library
Saturday 6 July 2013, 10:29
By John Baxter
There was a good turn out to come and hear Lyndon Stacey give a reading, talk and answer questions about the difficult art of becoming a successful novelist in these testing times.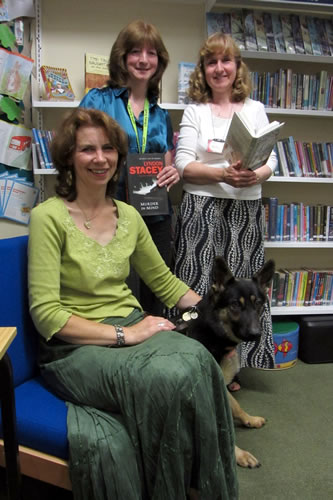 Lyndon Stacey is author of more than six published novels, and she came accompanied by her "puppy"; a beautiful, very large and extremely well-behaved German Shepherd who lay quietly by her feet for the whole evening.
The Wincanton library staff, headed by Shirley Hoare, had laid on an excellent spread of cakes, snacks and non-alcoholic drinks. Lyndon was introduced by Team Librarian Wendy Miller-Williams, who had come specially from Frome.
In a straightforward and easy way Lyndon then proceeded to read from her latest novel. Immediately she had us drawn in to imagine the terrifying scene she was describing and the characters and their feelings as their rural cottage was petrol-bombed. This provoked a lively discussion, for among the audience there were several who have tried their hands at creative writing. Lyndon answered their questions clearly and unhesitatingly, showing how much thought lay behind everything she writes.
She went on to point out how difficult it is to get a first novel published, how much determination, persistence and careful research this takes, and how in the end it can often be a matter of luck that someone takes what you have written seriously and an agent or a publisher decides to promote your work. Some found this depressing, others encouraging.
Lyndon described how, since she was a teenager, she had loved the novels of Dick Francis and wanted to become a writer herself. With a country background and love of dogs and horses, she has concentrated on setting her works within the world she knows and so has been described as "the queen of West Country Crime."
Interestingly she has found that her very English style and subject matter seems to attract a substantial readership in the United States as well as in Australia.
Lyndon brought along six of her eight novels, Time to Pay, Murder in Mind, Outside Chance, Deadfall, Blindfold and Cut Throat, and her last two, No Going Back and No Holds Barred. These are the start of a series and also feature a German Shepherd which was the reason she brought her dog Shia along with her. All these are available through Amazon and booksellers both as paperbacks and on Kindle. She also has a website, http://www.lyndon-stacey.com/, complete with a close-up of her "puppy".