Wincanton's focused community website for news, views and information including a full calendar
Headlines » Community » Balsam Centre
Cooking 'Nosh' for no 'Dosh'
Wednesday 21 August 2013, 14:36
By Alice Glover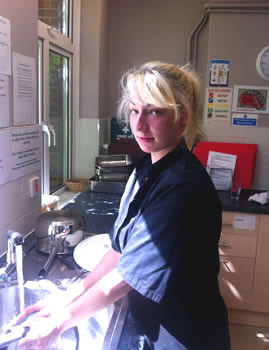 Hanna, as a single parent, has a small child, Lilly. It is really commendable that she is able to find the time to cook at the cafe whilst bringing up a child.
Like the Loose Ends Cafe, charities rely heavily on the support of volunteers like Hanna as many of them would be uneconomic to run without their enthusiastic input. She has been cooking and getting to know the café diners since September. She enjoys the banter and feels very much part of their community.
"It is a very rewarding experience," she says. "I find nothing better than having the opportunity to lift the spirits of those who are at a 'loose end'!"
She gained her cooking skills through working at Taylor's bakery in Wincanton, where, without formal training she invented new recipes using her own creativity, proving that she has natural culinary flair! Coming to the cafe kitchen has enabled Hanna to hone these skills. Since taking over from professional chef Caroline Heath, she has really 'stepped up to the plate', planning menus with precision and cooking with passion. "I just love cooking," says Hanna. She is not competing to win the title of Master Chef just yet or to become the next Nigella; she simply wants to produce healthy but hearty meals using fresh, cost-effective and locally sourced ingredients. The herbs, for example, are grown literally yards away from the kitchen by keen volunteers in the Balsam Centre's very own Growing Space garden!
The skills that she has gleaned from the centre she hopes to pass on to her daughter to give her a head-start in life so that she has an early understanding of what really 'good' food can be. However, ultimately Hanna feels that this work experience has given her the confidence to eventually run her own enterprise and encourage other volunteers in the process.