Wincanton's focused community website, providing news and information including a full calendar
News » Crime/Police » Police
Community Policing Hits the Road to Keep Kids Safe
Tuesday 2 November 2010, 17:28
By Western Gazette
[Got a story you want published? Put Wincanton Window on your list of media to get in touch with – we never run out of space so you can tell the whole story! We're also renowned for the number and quality of photos we publish with our articles, although unfortunately, we're unable to reproduce photos with these "round up" articles, which first appeared in the Western Gazette.]
Schoolchildren in Wincanton have been put through their paces by a police community support officer during a month-long cycle safety course.
The Rightrack Training Course took place for year five and six pupils at Wincanton Primary School where they received valuable lessons in road safety before it concluded last week.
The 12-hour course gave the children important pointers on how to control their bikes and behave on the roads.
Police community support officer Jenny Maynard said the course, organised for 18 pupils, was a resounding success.
"The pupils worked really hard to grasp the technique of riding on the road and their enthusiasm made it really enjoyable," she said.
"Hopefully it will improve their road awareness and give them the tools they need to be safe in the future."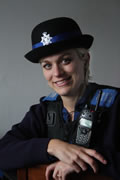 It is the third time PCSO Maynard has run the course for Wincanton youngsters.
Last year, according to the Royal Society for the Prevention of Accidents, 7,500 children were involved in cycling accidents on roads in the UK.
A spokesman for RoSPCA said: "Cycling has never been so popular as it is today. But it also results in 25,000 accidents each year.
"The promotion of safe cycling is paramount and that's where the Right Track Cycling Awareness Programme comes in.
"It draws on the very latest thinking in the promotion of safe cycling and aims to encourage young cyclists to develop their own awareness and judgement so that they will be better prepared to cope with the dangers they will face on the road.
Article first published by the Western Gazatte