Wincanton's focused community website, providing news and information including a full calendar
Headlines » Neighbourhood » Roadworks
Castle Cary Bridge Repairs by Network Rail
Monday 1 July 2013, 14:39
By John Smith
Network Rail is due to commence extensive bridge repair work on the railway bridge at Castle Cary as of 8th July, lasting for a period of 19 weeks. However, the bridge was reduced to single lane traffic on 10th June to allow exploratory drilling on the deck. During the closure period there will be a full diversion to aid access to the town centre and industrial estates for traffic that would normally use the bridge.
The serious need for the work is evident. The contentious issue here is what damage will be suffered by Castle Cary and Ansford in the process. The local business community has expressed serious concerns direct to Network Rail because they can see looming a 19 week period during which business will suffer a significant downturn. In the current national economic climate local economies live on a financial knife-edge. Add into the equation a road closure/diversion of such magnitude and it's no surprise local businesses are starting to panic.
The local businesses have tried their best to be pro-active in making suggestions to Network Rail to avoid this total closure, but sadly without success. One suggestion was to ask the Army to build a Bailey bridge (portable, temporary, pre-fabricated) over the railway to allow traffic to continue to flow. It seems that Network Rail didn't like this one, so from 8th July Castle Cary and Ansford will be at the mercy of a major bridge closure and road diversion.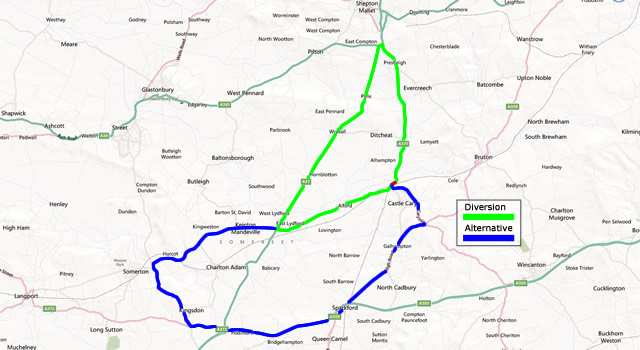 Click map for a larger view
Contacting Network Rail to ask for clarification about the bridge works resulted in the distinct impression that communication was on a strictly controlled basis, presumably for legal reasons. They'll be concerned about claims for loss of business.
A large percentage of deliveries to Wincanton and towns and villages to the south of us also come via that Castle Cary Bridge. We'll likely never know if Network Rail took that into consideration when they planned this work and the diversions.
We are grateful to Network Rail for supplying us with detailed information about the bridge works and diversions. You can download a copy of this information here. Pass this important information to anyone you know who may be coming to Castle Cary or Ansford during the period of the works.