Wincanton's focused community website, providing news and information including a full calendar
News » Nature » Carymoor Environment Centre
Carymoor's Nightingale Project needs volunteers
Friday 11 February 2022, 18:47
By Jackie Gage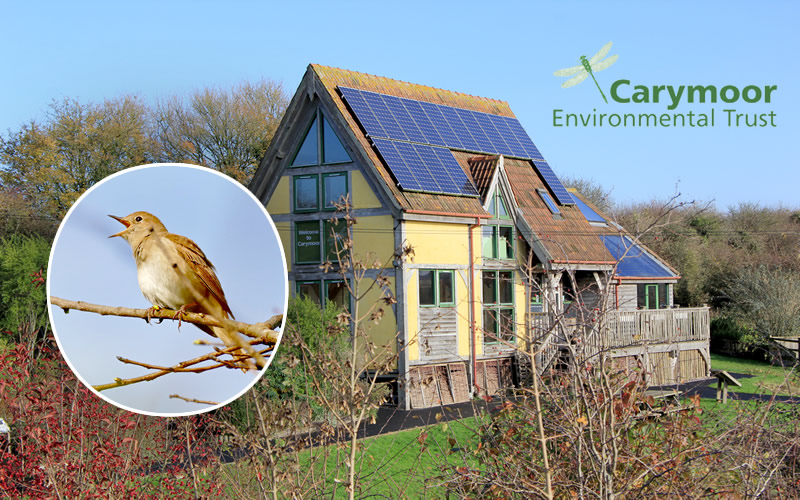 The Carymoor Environmental Trust is an environmental education and nature conservation charity near Castle Cary, providing outdoor learning for schools and community groups. Our Centre is situated on a 40ha area of a former landfill site and has been developed into a wildlife-rich nature reserve.
A once common, but now rare and elusive bird, the nightingale in the UK is estimated to have declined by 90% in the last 50 years with loss of suitable habitat being a major contributing factor. The aim of our new Nightingale Project, supported by the Heritage Lottery Fund and our team of staff and volunteers is to extend existing, and create more suitable habitat for these birds at Carymoor in the hope that they will become resident here.
To create their favoured habitats we are, over the next two years, planting thousands of blackthorn trees, laying and gapping up some of the hedgerows, excavating the silted-up ponds, creating a hazel coppice and many other tasks which will hopefully benefit these birds and other rare species already present such as the brown hairstreak butterfly and great crested newts.
Our current volunteers have already made a start on helping with this work but if anyone would like to get involved there's still plenty to do. Volunteering at Carymoor is a great way to help the wildlife that lives here and it's also a chance to meet new people, learn new skills, get fit and improve your mental wellbeing.
We have regular volunteer days on Mondays and Tuesdays and the last Saturday of each month. If you'd like to get involved, please contact or 01963 351350. You can also visit our website www.carymoor.org.uk