Wincanton's focused community website, providing news and information including a full calendar
News » Crime/Police
Car Blaze in Memorial Hall Car Park
Thursday 7 May 2015, 12:05
By John Smith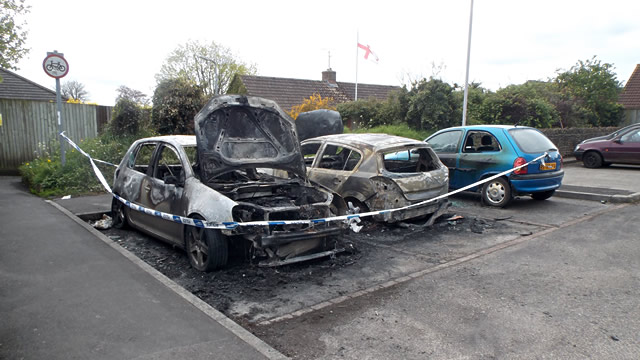 At around 2.00am on the morning of Monday 4th May, a car parked in the far south east section of the Wincanton Memorial Hall car park was set ablaze. Devon & Somerset Fire brigade believe that this was a deliberate act of arson, and the incident is now being investigated by Somerset and Avon Police.
The first car, thought to be a VW as evidenced by the badge lying in the embers, was set on fire and was the start of a chain reaction igniting the second car (possibly a Vauxhall Astra). The third vehicle (a Vauxhall Corsa) was already badly singed, and would have burnt out like the others if not for the timely arrival of two fire engines from Wincanton and Castle Cary. Over the following hour the fires were extinguished using compressed air foam jets.
A telegraph pole was also damaged in the fire.
Local resident John Young, Flingers Lane, said he and his wife use either Carrington Way or the Memorial Hall car parks for overnight parking, because parking in Flingers Lane is extremely limited. On Sunday evening they decided to use the Memorial Hall car park, parking their two cars within a few yards of the vehicles that would be set ablaze. John said that even relaxing in their home in Flingers Lane they heard what they thought might have been celebratory fireworks.
A police spokesman said: "We are investigating a case of possible arson in the early hours of Monday in the Wincanton Memorial Hall Car Park in which three cars were damaged. If anyone has any information which might assist with the investigation please call Wincanton Police on 101 quoting reference 45779/15 or Crimestoppers on 0800 555 111."