Your source for Wincanton's latest news, views and information, covering Wincanton and surrounding towns and villages
Headlines » Community » Obituaries
Biddie Lawson - We Remember A Special and Much Loved Person
Saturday 3 July 2010, 09:53
By John Baxter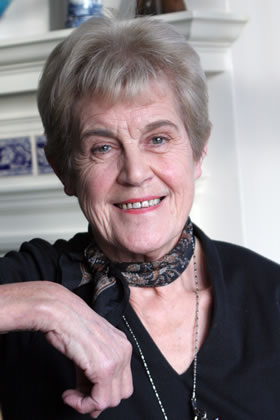 It came suddenly and unexpectedly on Tuesday 29th June 2010. Biddie was just about to go out to lunch with a few friends and Peter was walking her down their drive to the car and as Peter said afterwards "She was looking beautiful." As she approached the car, her hand went to her neck, and she said "my neck" – the last words she spoke. With that she collapsed and slipped into unconsciousness. The air ambulance arrived very quickly, but she had already passed away.
We all thought after her last operation on her foot that she was doing well, though the healing was slow. She assured me it was giving her no pain and seemed to be very much herself, outgoing, interested and involved in other people and her wide circle of friends who were forever "popping in" and keen to get stuck into more work for Arthritis Research and promoting charities on the Wincanton Window.
Biddie was certainly a very special person. As someone who had learnt to live with persistent and debilitating pain for years she had learnt as few of us do to make the most of her life and to focus on others. I found her sharp, intelligent, humorous, sympathetic, quick to size up a situation or a person, unsentimental and having about her an almost luminous brightness. This made people feel better for being around her and she was also able to use these qualities to encourage others to get involved and to give – particularly to Arthritis Research, but in many other ways as well. She was quick to understand the point and potential of the Wincanton Window as a local community web-magazine and was one of the first people to give us practical help, in her case contacting all the charities in the town and encouraging them to use the Diary and write articles about their work. She was great to talk to, helpful and supportive. A real friend. Like many others, I shall miss her badly.
What follows is the profile I wrote for the Journal in 2009. It comes with deepest sympathy for Peter and their children Jane and Tony.
In May 1992 Biddy Lawson invited some eight friends to a coffee morning at her home in Bayford. She wanted them to meet Margaret Cowie, Regional Organiser of Arthritis Research UK, (at that time known as ARC, the Arthritis Research Campaign). That meeting was the start of something remarkable for it resulted in the setting up of the Wincanton Arthritis Research branch with Biddie as Secretary. What Biddie's leadership achieved was celebrated at an evening on the 27th of February 2009. In sixteen years the branch had raised £115,000.
That night they were joined by several local doctors, consultants from Yeovil and other well-wishers. They also came to hear dentist Geoff Worrall talk about his sponsored cycle ride in India and see him hand over a cheque for £5,618 to the Arthritis Research Chief Executive Fergus Logan. In his speech Geoff gave a good example of Biddie's opportunistic powers of persuasion, saying that she had recruited him into doing his ride while sitting in his dentists chair. Fergus then made a presentation to Biddie in recognition of her key role in starting, organising and energising the branch. He also thanked a number of other Arthritis Research supporters who Biddie had encouraged to join, many of whom are also arthritis sufferers.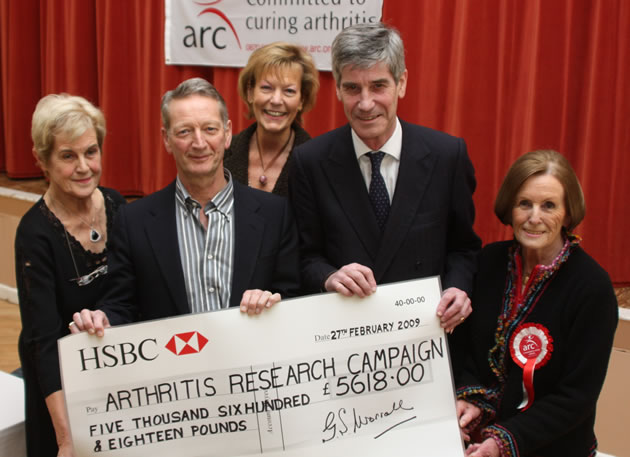 How did Biddie get involved in all this and how has the branch done it? Well, Biddie and her husband Peter moved to Bayford twenty years ago in 1988. Peter had taken early retirement after a fascinating and demanding career with the Overseas Group of the Dunlop company. They had posted him and Biddie out to the Far East in the late 50's and for seventeen years they had lived in Singapore, Kuala Lumpur and Jakarta. Wherever they went Peter as a keen and able amateur actor, got involved in the local drama society and Biddie, who had trained and worked as a secretary before they got married, found herself working as Hon Sec. In this way she built up considerable experience in organising events and promoting publicity for the shows. They had then moved back to England to live near Ascot with their two children Jane and Tony in 1978. Peter however continued to spend quite a lot of time travelling abroad, though now it was to work in the Middle East with Arabs, but still with Dunlop. Biddie also found herself working with and for Arabs when she was taken on by a wealthy Kuwaiti family as secretary. They had bought a grand 200 acre estate near Ascot called Fernhill Park complete with its early eighteenth century mansion house. This required considerable restoration and estate management, particularly since the family only spent a small amount of time in residence each year. This needed serious restoration so Biddie worked first with the construction company and then became Estate Manager for the Kuwaiti family. This meant Biddy developed a range of management skills over the ten years she did the job. She found it fascinating.
In 1980 at the age of only 46 however, she was diagnosed as suffering from osteoarthritis. This was painful and debilitating making walking difficult. In 1986 she had the first of several hip replacement operations. This first one failed after three years, but the revision greatly restored her mobility. Becoming an arthritis sufferer did however lead to her becoming a member of Arthritis Research and receiving their quarterly magazines. Two years later in 1988 she read that a National Sponsored "Hippie Walk" was being organised and the Yeovil Branch were arranging one. Biddie, along with two Wincanton friends, also with hip replacements, took part in the sponsored walk. It was this which lead to her setting up the Wincanton Branch which now boasts 90 members.
From the start Biddy has been Secretary of the committee which happens to be made up entirely of arthritis sufferers and they have received full co-operation and support from local doctors and the specialists in Yeovil, Bristol and Bath.

Biddy comes across as outgoing, friendly, kindly and sensitive. She is also impressively uncomplaining about the discomfort she has to live with. She is though, extremely well organised and quick to see and pick up on every opportunity to publicise Arthritis Research and raise money for it. She showed me a copy of the beautiful calendar they put together on Wincanton for the Millenium Year with art work organised by Wincanton artist Sheila Watkins. Biddie enjoyed the promotion and business side of the production, getting all the advertising slots filled and getting local traders to carry copies. The result was calendar sales of £7,000 plus the auction of all the original pictures in it. She also described lunches and auctions at the race course, coffee mornings, sponsored cycle rides, a seriously big draw for a car at the Bath and West show, further sponsored "Joint Jaunts" for those who have had joint replacements and large summer parties held at different homes each year. The branch also maintains contact with local funeral directors to provide the relatives of former arthritis sufferers with the possibility of making an "in memoriam" donation to Arthritis Research locally. Such donations are always personally acknowledged. In addition to this Biddie always carries a comprehensive set of arthritis leaflets for sufferers and the doctors refer patients to her for further information about how to handle their condition. Impressive.
Arthritis though is not an easy condition to live with. The pain is relentless, its effects crippling and it can attack old and young. Over two million in the UK suffer from osteoarthritis and about 350,000 from rheumatoid arthritis. Research is desperately needed and much is being achieved.
John Baxter
The Funeral Service will be at Yeovil Crematorium at 12.00 Thursday 8th July.
The Service of Thanksgiving for her Life at St Andrews Church, Stoke Trister at 2,30pm, on Saturday 10th July, followed by tea at Wincanton Memorial Hall.
Family flowers only. Donations in her memory, may be made to either Arthritis Research UK or Somerset & Dorset Air Ambulance.
Donations can be made at the Church, or to the funeral directors, Harold Miles, Winton Cottage, South Cadbury, Yeovil BA22 7ES