Wincanton's focused community website, providing news and information including a full calendar
News » Neighbourhood » Cale Park
BBC Somerset radio broadcast from Cale Park last Sunday
Saturday 6 May 2017, 09:25
By Dave Smith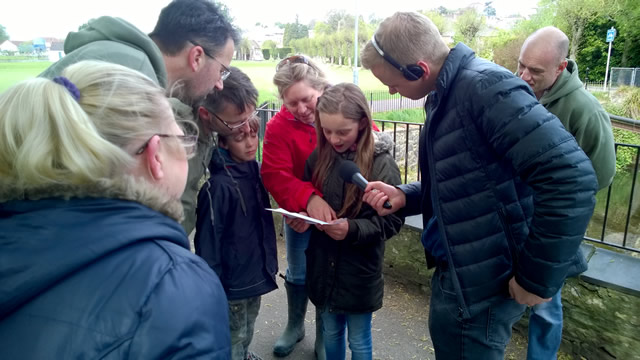 Last Sunday, 30th April, the BBC Somerset radio programme Clueless with Richard Lewis featured Cale Park, broadcast in part from the old bridge near the car park via a mobile radio vehicle. Wincanton Town Clerk and members of C.A.T.C.H. were interviewed about the new play park and the work the team does for the river.
Clueless involves two mobile teams that compete to follow cryptic clues that lead them along a trail of mystery points of interest across the county. A clue is broadcast at each location, and listeners provide the answers that lead the teams on to the next.
On Sunday the Somerset team experienced a bit of navigational difficulty before finally arriving at Cale Park to meet town representatives. They parked the radio vehicle in the car park and used wireless hardware to conduct interviews on the bridge.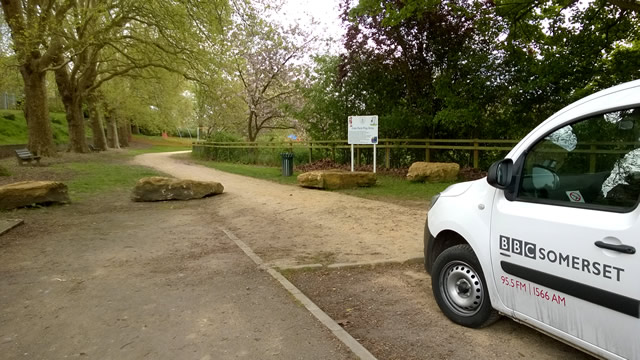 Chuckle brothers Matt and Gary from C.A.T.C.H. and Town Clerk Sam Atherton did their best to briefly explain the project to refurbish the play area and the work C.A.T.C.H. does, but fortunately Gary's kids, Sophie, 12, and Tom, 10, were present to give a more experienced overview of new park equipment.
Sophie was also given the honour of reading out the clue for the next location; "A home for extra peas near Yeovil". A listener phoned in to suggest Podimore, alleged to be home to one of the top five roundabouts in Somerset, presumably judged by professional roundabout connoisseurs.
The full show will be available to listen to using the BBC iPlayer until 30th June 2017. The show is 2½ hours long, and the Wincanton segment plays from 1:27:18 to 1:36:06.